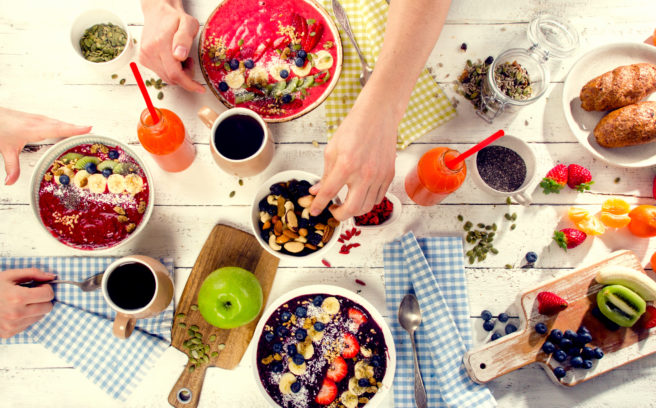 Obsessed with brunch? Here are 3 super simple (and delish) recipes
Like the upstanding millennials that we are, we adore a good brunch. But more than a good brunch, we adore a cheap brunch.
And what could be cheaper than brunch dishes you can whip up from the comfort of your own kitchen?
Ladies, we give you our three favourites…
Ham and cheese womelette
2 eggs
1 slice of ham, chopped
½ cup of grated cheese
1 tsp paprika
Spring onions to taste
Whip the eggs until they create a light foam. Add the cheese, ham, paprika, salt and pepper.
Preheat the waffle maker and spray with oil. Pour the mix into the waffle maker and cook for about 4 minutes.
Scatter with spring onions and more cheese if desired. Enjoy!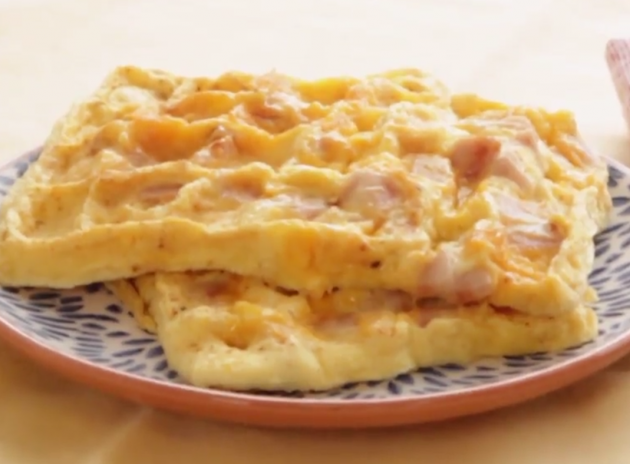 Brunch frittata
80g grated cheese
8 free range eggs
200g potatoes, peeled and finely sliced
1 onion, finely chopped
4 rashers, chopped
1 handful baby spinach leaves
2 tbsp olive oil
1 tsp paprika
Put the sliced potatoes in a pot of boiling water and simmer for 10 minutes. Drain them and set aside.
Heat the oil in a large frying pan and add the onion and the chopped bacon. Cook for about 5 minutes. Set aside.
Keep the pan on the heat and place the sliced potatoes in one layer on the bottom of the pan. Scatter the bacon, onion and the spinach. Cook for about 3 minutes, until the spinach starts to soften.
Beat the eggs until they form a light foam, add some pepper, the paprika and the cheese.
Add the egg mixture to the pan, put a lid on it and cook over medium to low heat for 10 minutes, or until the eggs are cooked through.
Serve cut into wedges with a some cherry tomatoes and sliced avocado if desired.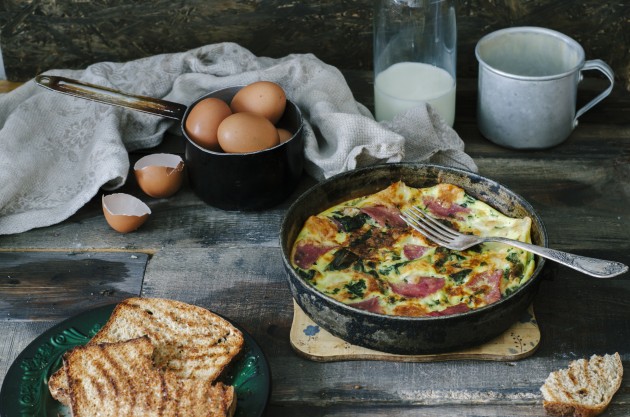 Breakfast baked potatoes
4 medium potatoes, cooked
4 free range eggs
½ onion, finely chopped
100g bacon, chopped sliced
75g grated cheddar
A few sprigs of chives
Salt and pepper
Olive oil
Sour cream, to serve
Preheat oven to 180°C. In a large pan, heat a tablespoon of olive oil and cook the onions until translucent. Add the bacon and cook for 3 minutes.
Cut out the top of each potato and scoop out most of the inside (you can keep it to make potato croquettes).
Stuff each potato with the bacon and onion mix, some cheese then crack one egg inside. Season with salt and pepper. Add more cheese on top and place on a lined baking sheet. Cook for about 20 to 25 minutes.
Top with chopped chives and serve with baby spinach and a dollop of sour cream if desired.