New Hair & Body Oil by Irish haircare brand Voduz, hits the shelves
Allow the spellbinding fragrances of Bergamot and Vanilla illuminate your senses with Pure Silk Hair and Body Oil, the latest product to hit the shelves from Irish-owned Haircare brand, Voduz. We are all guilty of letting our regular trims go too far and in-between, leading to lacklustre locks, but the right hair oil can be the secret to revamping your crowning glory.
Enriched with Vitamins A and E, nourish and protect your stressed-out tresses with this lightweight and fast absorbing formula. Infusing each individual strand of hair with long-lasting hydration and luminance, it protects against breakage from our beloved hot styling tools and even has a built in UV filter, all the while resulting in a super silky finish and a high-gloss, mirror-like shine from root to tip.

Harnessing the powers of argon oils, Pure Silk also imparts a radiant glow to the body as the oils work to reconstruct and moisturise tired, thirsty skin. Each protective drop will transform and overhaul your brittle hair and lifeless skin as the anti-inflammatory properties soothe the skin and the scalp.
Encased in luxuriously sleek glass packaging, this aesthetically pleasing product will fit right into your haircare and beauty routine, and the ultimate magic of all, it is suitable for all hair types and can even be used with wigs and extensions!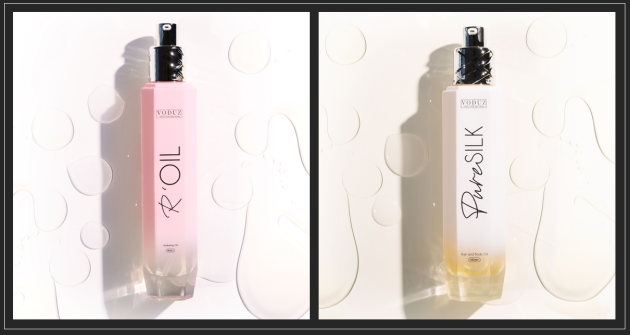 If it is more of a frizz-fighting rescue you need, then turn to R'Oil, your split end saviour. Smooth out pesky fly aways and lock in moisture this lightly floral scented oil. Simply apply to wet or dry hair, and let it restore your split ends and frazzled lengths as it locks in strength, moisture and protection with its blend of Macadamia and Jojoba oils.
R'Oil acts to nourish the hair without weighing it down and can also be added to your favourite hair mask for extra hydration and care. The Macadamia Oil adds natural proteins to the hair shaft, whilst the fatty acids in Jojoba Oil will not only condition the hair but renew it from the effects of the close relationship you have with your hair straightener.
Pure Silk Hair and Body Oil (RRP €29.95/£27.99) and R'Oil (€19.95/£17.99) are available on www.voduzhair.com.
Introductory Offer: Pure R'Oilty Bundle (RRP €39.95/£36.99)