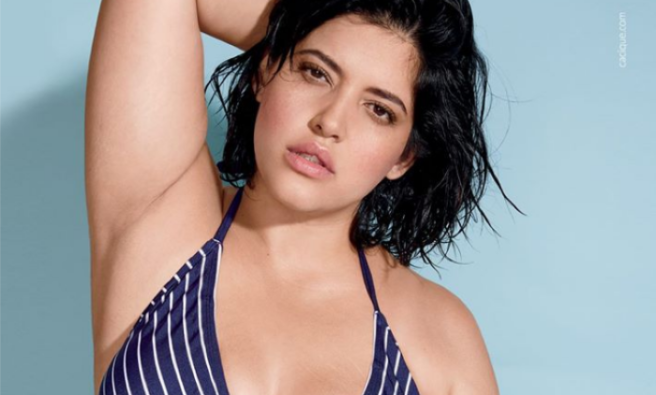 This PERFECT swimwear campaign is celebrating stretchmarks
It was exactly a year ago that Ashley Graham rocked a purple bikini on the cover of Sports Illustrated, demonstrating her curves in the most body confident way.
While the fashion industry has come on leaps and bounds in promoting body diversity over the past few years, there is still a lack of variation in certain elements of bodily representation.
There are lots of different body types on show, but all with perfect skin, not a hint of cellulite or stretch marks to be seen.
Ashley Graham has previously spoken out about her cellulite in a body positive way, but the leg dimples she showcased on Instagram do not feature on her bikini cover.
One company who wants to change the way cellulite and stretch marks are perceived is Lane Bryant, a plus size clothing and lingerie brand.
The brand (who just recently started shipping to Ireland) is putting tummy stretch marks on the map by featuring the gorgeous figure of plus size model Denise Bidot in its latest ad.
While Kate Upton may be posing, stretch mark free, on the cover of this months Sports Illustrated, the Lane Bryant ad spread sits in among its pages, promoting body diversity in one of the world's biggest swimsuit magazines.
Denise is totally un-retouched in the image, which features the slogan "My Confidence … Inspired by #ThisBody."
The campaign has been welcomed by women with open arms: "She looks fantastic and kudos to you for not airbrushing out her stretch marks! She is beautiful just as she is," reads one comment, under Denise's picture on the LB Facebook page.
The image is completely gorgeous and promotes the idea that all bodies are beautiful, despite the perceived "flaws." And that's an idea we can definitely get behind.