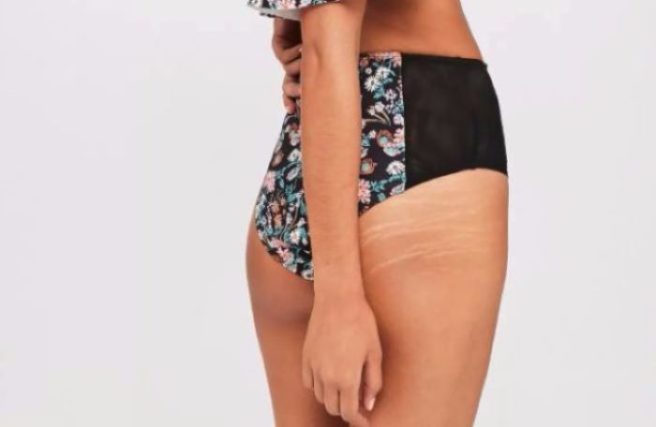 Missguided model's stretchmarks are REAL despite photoshop claims
Online fashion company Missguided received international applause when they featured models on their website with visible stretch marks.
It's an industry norm to airbrush out every stretch mark, scar and wrinkle, and so the inclusion of these 'imperfections' was a welcome respite.
However, fans of the fashion collective began questioning the legitimacy of the marks, and accused the brand of actually photoshopping the stretch marks onto the models.
It is so refreshing to see @Missguided not airbrushing model's stretchmarks. One more baby step towards preventing this false image of the "perfect" body.

— ceals (@celiafjarvis) November 17, 2017
'I'm sorry, I don't understand how this brand keeps denying that they've photoshopped stretch marks onto this model, but from these two images you can clearly see the marks aren't the same,' reads one tweet.
'If you're trying to show natural beauty, don't photoshop it in.'
'The @Missguided stretch mark pics look weird? weirdly edited?' said another.
@Missguided photo shop fail? pic.twitter.com/r92lXnP2LA

— Elin Hanley (@elinhanleyy) November 8, 2017
Now, the model featured in some of the shots has come forward to confirm their legitimacy.
'I'd like to speak out and let everyone know the stretch marks shown in my images on Missguided are real,' she penned in an Insta post for the behemoth fashion brand.
'I think it's really positive that Missguided aren't photshopping them out – it's important to show young women it's not about striving for perfection, it's okay to have stretch marks.'
'There's nothing wrong with having them, we all do, and shouldn't be something that's covered up.'
Kudos to Missguided for ceasing to edit out stretch marks, a natural part of growing up into into an adult body.
Another win for natural beauty, in our opinion.