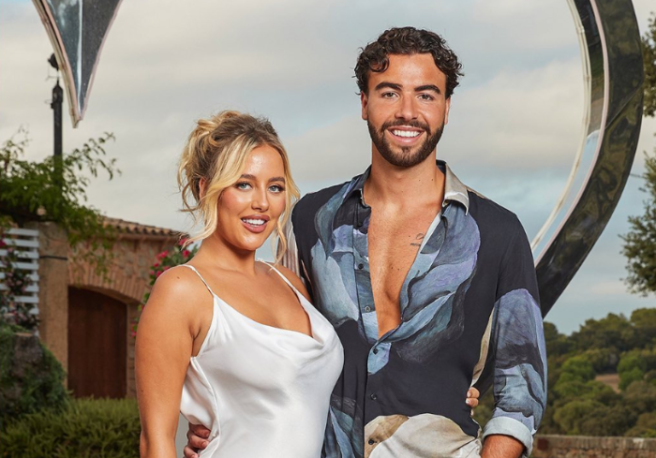 Love Island star argues Sammy and Jess split was 'expected'
One of this year's Love Island stars has spoken out about the reigning champions' recent split.
Earlier this month, Sammy Root announced that he was no longer in a relationship with Jess Harding, two months after they left the villa as the winners of Love Island's tenth season.
Now, one of their co-stars, Scott van-der-Sluis, has admitted that the former couple's breakup was 'expected'.
Speaking on the Saving Grace podcast, the 22-year-old was asked to give his opinion on Sammy and Jess' sudden split.
"I don't think anyone truly didn't expect it. Out of the four couples, for me at the time, I thought that the other three were stronger," he admitted.
When asked if he was surprised when Sammy and Jess won the series, Scott responded: "Yes. In terms of the Love Island story, it should've been Ella and Ty."
The Welsh footballer then went on to explain his reasons why he believed Ella Thomas and Tyrique Hyde, who are still in a relationship, should have been crowned the winners.
"Ty obviously being a player coming into the villa, Ella probably doing a little bit of the same thing. Both struggling with feelings, Ty especially struggling with his feelings. And then suddenly, he's an absolute loverboy," Scott recalled.
Earlier this month, split rumours began to surface regarding Sammy and Jess' relationship. Eventually, Sammy took to his Instagram account to confirm that their romance had ended.
However, the 22-year-old confessed that the breakup came as a "total shock" to him, as he penned at the time: "To be totally clear – I at least wanted a face to face conversation to see if our relationship could be saved and felt this would be the respectful way forward."
In the following days, when asked on social media why she chose to end things with Sammy, Jess spoke out and wrote: "We're just very different and behave differently and that's it."