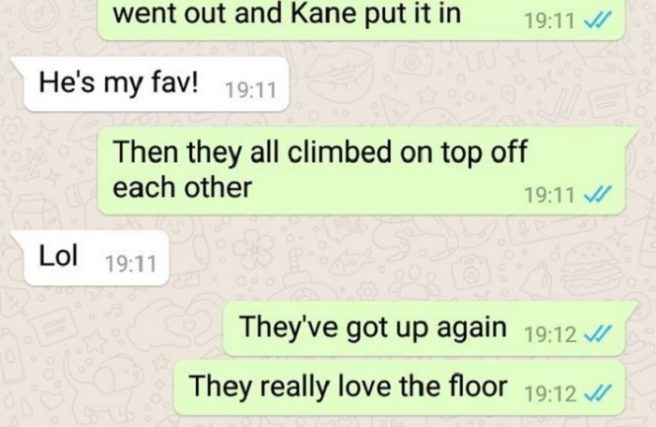 LOL: Girl's commentary of the World Cup has us in stitches
Okay, I'll be the first to admit I don't really get football.
Like sure it's entertaining to watch people go wild when their team scores or watch the hilarious injuries (10/10 for dramatic deleivery), but it still doesn't hold a huge appeal.
However, I would DEFINITELY watch if this gal was the commentator. Meet Alison Finlay, a student from London and our new hero.
Her boyfriend was delayed on his commute home, so instead of missing the FIFA World Cup game between England and Tunisia, he asked Alison to give him a play-by-play of the action.
"He had to work late and hoped he'd make it back (for the game) but didn't, so asked me to fill him in. I kindly obliged!" Alison told the Press Association.
After England won the match 2-1, Alison uploaded her texts to the Internet, which went wild for her.
My boyfriend asked me to text him updates from the #ENGTUN game as he's on his way home. You can't say it's not accurate. #WorldCup pic.twitter.com/fOIUKsMLus

— lightningstarr (@lightningstarr) 18 June 2018
Our personal favourite is:
"A Tunisian man is on the floor [sic]. Looks like he got hit in the hair. The referee is uninterested. the man with the injured hair is not pleased."
She also takes the piss out of soccer player's hair, which at half an hour into the game she observes that "everyone's hair is holding up well."
Oh as for the injures? She's calling BS on them.
"This time and Englishman received a light tap and fell down violently." LOL.
In case you're wondering what else happened in the match (probably not as funny, and some more typos, apologies): pic.twitter.com/16uh2u2njy

— lightningstarr (@lightningstarr) 21 June 2018
Thanks to the popularity of her original tweet, she uploaded the rest of the conversation which was equally as hilarious.
Twitter is loving it, with many begging her to live tweet the rest of the World Cup.
This is more entertaining than the world cup itself haha U are awesome… Thanks

— cleber (@clebe_assis) 21 June 2018
"They really love the floor"

"A Man fell down"

SOOOOO GOOD.

— Vince Knight (@drvinceknight) 21 June 2018
Your boyfriend better get you some gloves because you're a KEEPER!

— Ryan DesLauriers (@realryandes) 22 June 2018
Can she just narrate our lives please?