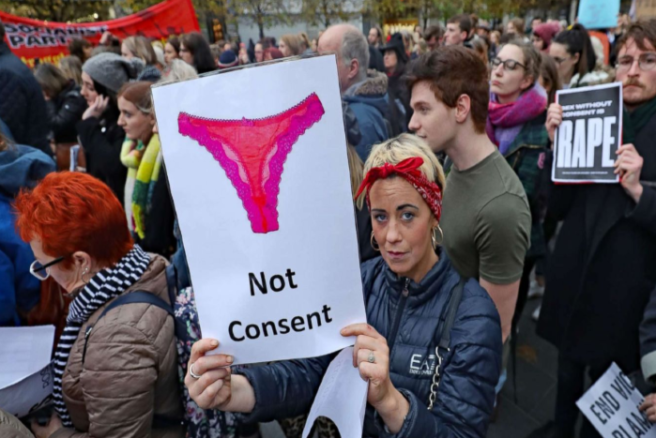 "Is that clear?": Listen to this powerful song about Cork rape trial
Emotional tributes and forms of creative protest have been occurring worldwide for the 17-year-old woman involved in this week's Cork rape trial, which saw a female barrister use the young woman's underwear as evidence against her.
According to the barrister, the woman's lace thong proved that she was 'open to meeting someone and being with someone', leading to the organisation of mass rallies in support of the victim.
The 27-year-old man accused of raping her in an alleyway was acquitted of rape following barrister's Elizabeth O'Connell's finishing statements.
Among the tributes to the young woman is a hauntingly beautiful rendition of a song, penned by a young woman of similar age to the girl involved:
"Is That Clear?"

So my little sister Grace has written a song about the rape case that took place in Cork where the 17 year-old in question had her choice of underwear used as evidence in the trial. I think it's incredibly powerful as well as chilling. RT RT RT pic.twitter.com/mmPDmFbSD3

— John (@jonnygaughan) November 19, 2018
The video, which was shared on Twitter by her brother John Gaughan, has been steadily gaining in views since it was uploaded.
The lyrics echo the sentiments of outraged women all over the country, who are refusing to accept that underwear can play a part in consent and can also be used as evidence in a court of law.
"What are you wearing underneath? Isn't for you to see unless I want that to be, is that clear?"
"No please, can you stop? That should be enough for you to f*cking wise up, is that clear?"
"Consent is what we're told, at 17-years-old, is what we wear underneath our clothes. Victims become accused of the crime they didn't do, responsibility is abused."
"We shouldn't have to fear for this to happen to us or someone that we love, is that clear?"
"Something has to change with the mindset of today, it's still not clear."
Anger has spread around Ireland as well as in other countries around the world as a result of the latest controversial rape trial.
ROSA and Ruth Coppinger TD have both requested that strikes occur as a form of protest against the handling of sexual violence cases as well as consent and Irish sex education on International Women's Day.
I've just spoken on Indian television about #ThisIsNotConsent and the need to make International Women's Day a major international day of protest. I also spoke about the global walkouts by Google workers.#dubw https://t.co/jTUPNqDyIa

— Ruth Coppinger TD (@RuthCoppingerTD) November 15, 2018
A review of the handling of sexual assault cases in Northern Ireland been released today, stating that members of the public be excluded from such trials following the high profile Belfast case.
The report, written by retired judge John Gillen and states that access to trials involving serious sexual offences should be confined to close family members of the complainant, the defendant as well the media.
In the Republic of Ireland system, rape trials are already closed to the public.
It remains to be seen if any positive consequences will occur as a result of the protests, we hope improvements can be made for the sake of sexual assault and rape victims in Ireland.
Feature image: ABC News