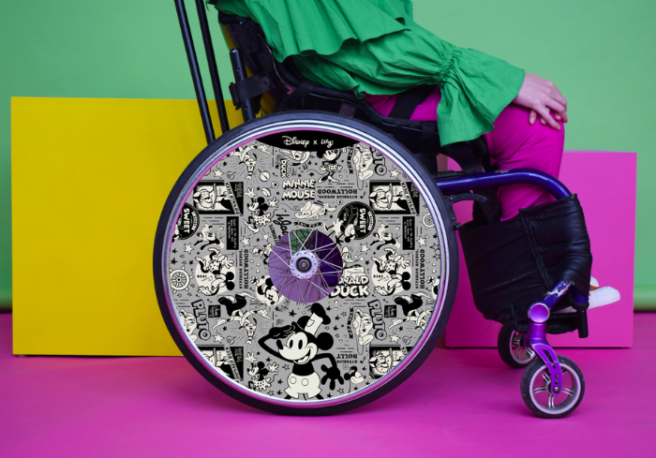 Irish wheelchair business collabs with Disney for 100 year celebration
Disney is celebrating its 100th year and to mark the exciting occasion, a number of companies teamed up to launch unique products to honour Disney100.
One of these fabulous companies is small Irish business Izzy Wheels, who have created a new collection of fashionable wheelchair covers.
Izzy Wheels was founded by two Galway sisters- Ailbhe and Izzy. They created this wonderful brand to help wheelchair-users express their style through the use of removable wheel covers.
This is the second collaboration between Disney and Izzy Wheels. The latest collection of striking and colourful wheelchair covers especially designed for the 100 year celebrations have been created for all ages, and feature Disney's much-loved characters.
From Elsa and Ariel to Spider Man and Black Panther, the collection has a whole range of characters to choose from.
So, whether you're more into Disney classics, Pixar, Star Wars or Marvel, there are wheelchair covers to suit all interests.
Also, an incredible 10% of proceeds from all Disney-themed wheelchair covers will be donated to The Make-A-Wish Foundation, so not only will you be getting a fabulous cover for your wheels, but you'll be making a charitable donation at the same time!
Wheel covers are priced at €149.00/ £131.40 and come as a pair- one for each wheel. Not only are they super stylish, they are also lightweight, waterproof and scratch-proof so your Disney design will last.
The covers can be easily attached to your wheels as there are three velcro straps at the back of each one to fasten directly to the spokes of the wheel of any manual wheelchair.
If you want to buy your own wheelchair cover, visit the Izzy Wheels website here to shop the range.