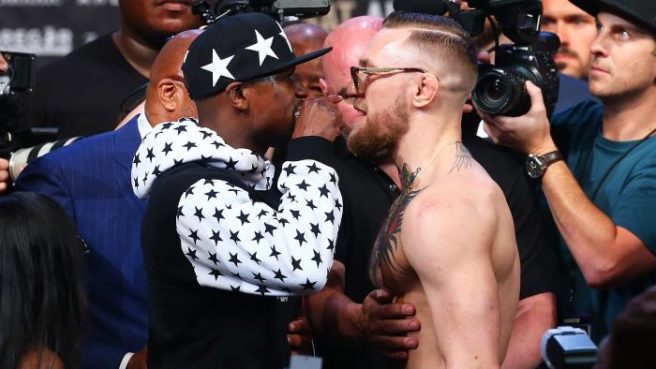 'I'm half black': McGregor claims he's not racist with bizarre speech
Last night, Conor McGregor and Floyd Mayweather faced off for the third time this week ahead of their mega money fight on August 26.
Earlier this week, The Notorious was accused of racism after telling his rival to "dance for me boy" during their stop in Toronto – claims Conor has since denied.
However, the UFC star's latest comments have not done him any favours.
Conor Mcgregor Adresses "The racist issue."

Gives message to his black female fans

Today at New York#McGregorMayweather pic.twitter.com/EOeL8UV1So

— 112 Sports (@112Sports) July 14, 2017
Taking to the mic last night, Conor said, "I want to address something."
"Some of the media seems to think I've got something against black people."
"But I'm half black. I'm black from the bellybutton down!"
No. Just, no.
The comments have gathered a mixed reaction on social media.
I've been telling you that Conor McGregor was a racist bigot.

He literally told Floyd, "Dance for me, boy."https://t.co/Vc9Co1TcCY

— Shaun King (@ShaunKing) July 12, 2017
I know a racist when I see one and Conor McGregor is not one. The Irish say "boy" and "lad" all the time.

— Desirée (@Reezy__) July 12, 2017
So that Conor McGregor is An unapologetic racist…..I will now put money on Floyd,I hope he knocks him dafuuQ out

— Spleazy (@SplitJones) July 14, 2017
Something about Conor McGregor yelling "Dance for me boy" to Mayweather sounds so racist

— KAIZA (@hiberheim) July 11, 2017
#UnpopularOpinion
Conor McGregor is not racist, yall just reaching, he might be ignorant but he is not racist. Stop reaching.

— your one cleo. (@KenglishOrigin) July 14, 2017
Feature Image: APF