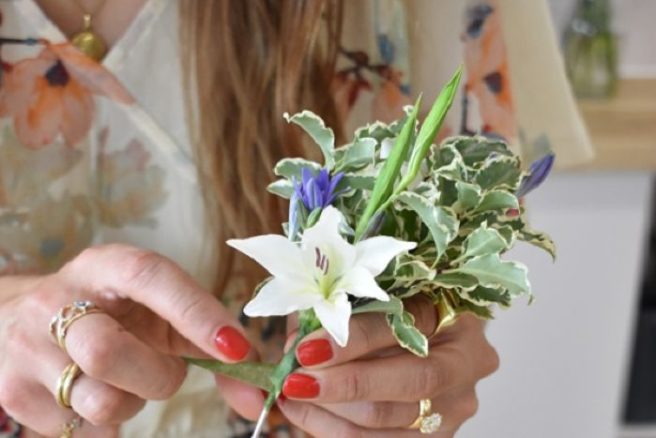 How to make the perfect flower crown according to Bloom & Wild
Want to make an attention-grabbing bouquet for a festival, hen do, wedding or party? Bloom & Wild's floral stylist Rowan Blossom and author of bestselling book Living With Flowers, is here to show you how.
And good news. It's not as hard as you'd think. Everyone can do this. You just need to allow about an hour to make it on the day you want to wear it so it's lovely and fresh. But if you really, really won't have time on the day? Just make it the day before and fill it in a big bowl of cold water overnight.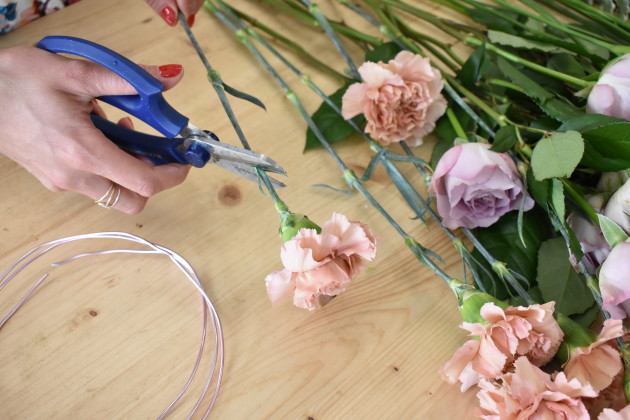 What you'll need:
– Measuring tape
– Floristry wire
– Green floristry tape
– Floristry scissors
– Ribbon of your choice
– 1 Bloom & Wild letterbox bouquet, we've used The Rebecca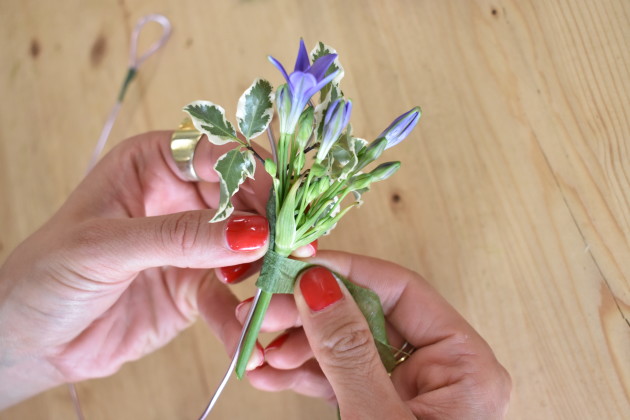 Top tip:
Choose a bouquet with woody or rigid stems as they last longer out of water. Roses, carnations, leucospermum, celosia, and foliage like ruscus and eucalyptus are all great choices.
Steps:
1. Measure your head then cut your floristry wire to size
2. Twist each end of wire to create loops. Hold them in place by tightly wrapping them with floristry tape. You'll pop your ribbon through these later.
3. Trim each flower down so there's only 1-2 inches of stem left. Cut down your foliage into sprigs this long as well.
4. Start by placing a piece of foliage at one end of the floral wire, keeping it as close to the loop as you can without covering it.
5. To hold it in place, grab your floristry tape. Keep it on the reel, but hold the open end over the stem wire, pull the tape until it turns clear then tightly wrap it around. Do this one or twice until it feels securely held.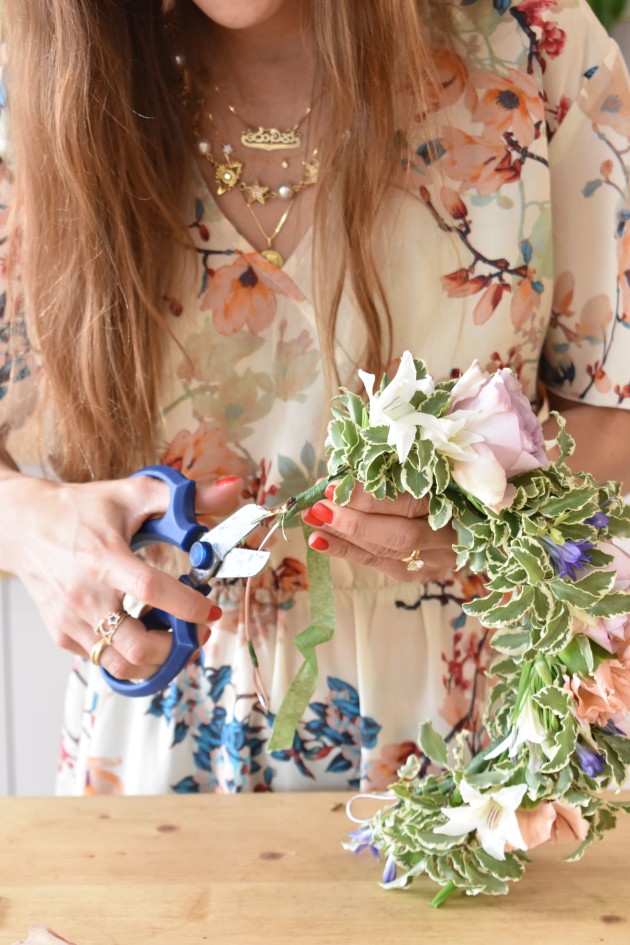 6. Repeat with a flower. You want to pop your flower as close to the foliage as possible to hide any signs of tape.
7. Then keep repeating steps 6 and 7, alternating between foliage and flower, until your crown is full. Remember to keep pulling your tape tightly and to keep your stems lined up in the same direction as you go. Try saving some of your bigger, focal stems for the front where they'll be most seen.
8. If any stems poke out of line, just trim them at the edge of the tape as you go along.
9 When you reach the end of your crown, secure the last piece of foliage in place by tightly wrapping it with floristry tape.
10. Next, tie your ribbon through the end loops.
11. Then you're ready to go.