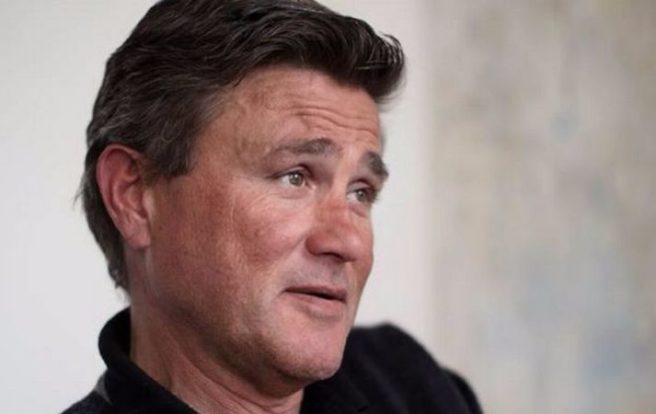 'His sleeping bag became his body bag': The death of Jack Watson
On Thursday morning, news broke that a man, who had been sleeping rough just yards from Dublin's most affluent shopping street, had been found dead.
Jack Watson, who had been a resident of Apollo House late last year, was found outside the Superdry store on Suffolk Street in the early hours of the morning, and was transferred to St James Hospital.
Jack's death, and the two which followed in Co Kildare and Co Cork just days after, has, understandably, devastated charities who seek to help the vulnerable in our nation's cities.
Taking to Facebook in the aftermath of Jack's passing, charity, Hope in the Darkness, articulated its anger, and paid a moving tribute to a man who was 'simply down on his luck.'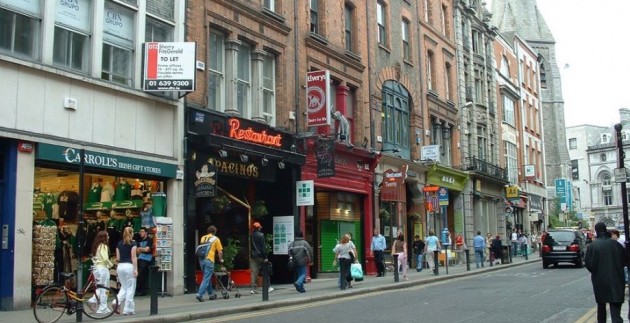 "Sadness is far from the only emotion being felt, we are angry!" began the post which has amassed considerable traction over the weekend.
"Angry that our fellow human beings are being forced to sleep out on the streets because there is either no emergency beds available or the beds being offered are unsuitable. 206 rough sleepers were counted the other night."
"This is unacceptable on so many levels. The powers that be will lead everyone to believe there's a bed available on any given night for anyone who rings the freephone. Take it from us this is lies!"
"Many a night we leave the GPO and say goodnight to our pals after witnessing them being denied a bed. Off they go to pick a doorway to bed down in, lay down their bit of cardboard, roll out their sleeping bag and stash their worldly goods down the bottom of it in the hope they won't be stolen."
"Imagine closing your eyes and trying to drift off to sleep, but worrying will you be left in peace for a few hours to rest your weary body or will you be kicked, pissed on, set on fire or sexually assaulted tonight. This is the sad reality of life on the streets for an ever increasing number of people each night."
Desperate to illustrate the reality of the homelessness crisis in Dublin, the people behind Hope in the Darkness, continued: "For those who get offered an emergency bed it's like playing Russian Roulette with your personal safety – often your sobriety can be compromised."
"The hostels are rampant with drug use. To anyone fresh out of treatment or working a programme taking a bed in a hostel could quite literally mean life or death. Watching someone else using drugs can be too much of a temptation at times and cause them to relapse/slip. Safe drug free well monitored beds are needed and needed fast!"
Reflecting on Jack's tragic passing, the charity sought to remove the perception the general public may have of the homeless they now see on a daily basis.
"Jack was not a drug user, just a man down on his luck as can happen to anyone of us at any time in our lives. His sleeping bag became his body bag," they wrote.
"A gentleman and talented chef who cooked up a storm for residents and volunteers alike as he spent Christmas safe off the streets in Apollo House."
"Would he still be alive if Apollo House were still up and running, I believe so. You now have a forever bed in heaven Jack."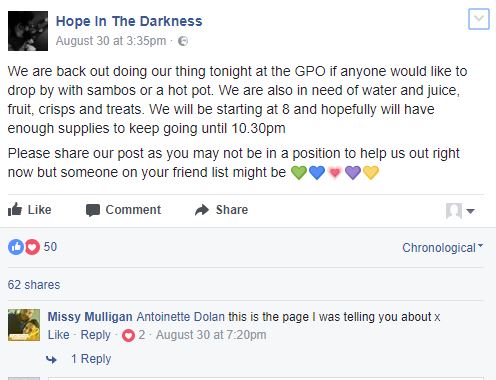 The powerful post has been liked and shared hundreds of times, with social media users deriding the government for its approach to the homeless and vulnerable in our capital city.
"Disgraceful that this has happened, the country is falling on its knees and the government don't CARE," wrote one while another added: "People cannot afford to live and the government don't care and there will be another economic crash."
If you want to assist with the work Hope in the Darkness do for the capital's homeless and vulnerable, keep an eye on their Facebook page for upcoming events including food drives and sleepovers.
Feature Image: Geza Oravecz Photography