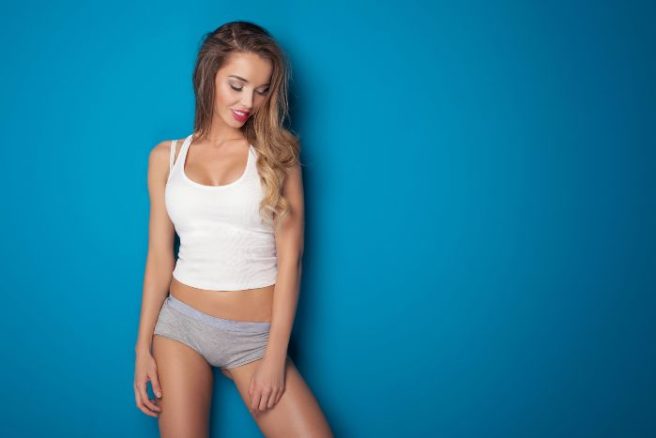 Hip Dips: Why is Instagram hating on this very normal silhouette?
Bodies.
They come in all shapes and sizes, right?
Curvy, slender, tall, short etc. etc. – but all gorge none the less.
So why, when it comes to something oh-so-normal like a hip dip, do people feel like they can't show it off in all its glory?
Are unrealistic and increasingly difficult-to-reach standards set by social media to blame?
Ok so first up, what is a hip dip?
They are an inward curve on each side of your body, just below the hip bone. Some women have quite prominent ones, some don't – pretty standard and deffo nothing to be ashamed of…because it's your body and it's normal.
That's all well and good until social media begins to poke its nose in and declare something natural like a hip dip is something worthy of being banished.
Ads boasting titles like ''how to lose those hips dips'' began to appear on Insta and women were beginning to ask why…and worryingly, question if their hip dips were something they should be tryna lose.
Many took to Twitter to hit out at these dangerous ads and to say that they're happy with their bodies as they are, thank you v much.
One hit the nail on the head when she tweeted, ''sorry, but it's 2018. We're out here loving all women and ourselves, time to stop conforming to Instagram beauty standards.''
Amen, sister.
without instagram ads, how would i know what hip dips are??? or that i should be ashamed of them??

— j eh s sick ah (@phllpsjss) November 7, 2018
So what effect is this having on us and our view of our bodies?
If the influencers that we follow are editing their bodies so much that they're actually morphing into a version of themselves that isn't real, what kind of false impression does that give us about our body image?
Carys Gray is an influencer who has been quite vocal about this – and she is v v pro-hip dip.
She wrote that, ''if anyone else has these cute ass hip dips then you should rock them…For 20 years I've picked at areas of my body I hate but not once did I pick up on these! A few years ago I would have felt insecure and wanted to change them. Now I don't care what other people think looks good on women or not. I think they're cool.''
Hi @instagram, any chance you could stop posting adverts on my account on 'how to loose my hip dips' and 'how to get the perfect face for pictures'. I'm good, thanks @jameelajamil #iweigh

— Sophie Sheppard (@soph_shep) November 5, 2018
However, some women are not as positive about them and are even going so far as to get filler injected in their hips to create a curvier shape.
this is known as a ''hip job.'' (what next?!)
Dr Ross Perry, GP Dermatologist explains the procedure: ''firstly, create a pocket between the skin and muscle to put an actual "implant" in, that is specifically shaped for this area. Secondly, use fat from your body that is harvested and are injected into this area.''
Wtf?!
According to New York plastic surgeon Arthur W. Perry, most people have a bit of fat over their hips and then a depression or a ''hip dip'' and then fat over the outer thigh and it is NOTHING to do with being overweight so procedures like a hip job are crazily unnecessary.
So lads, if you're part of the hip dip gang, show them off loud and proud and don't edit them out of your social images.
Embrace and love your body because it is perf as it is.