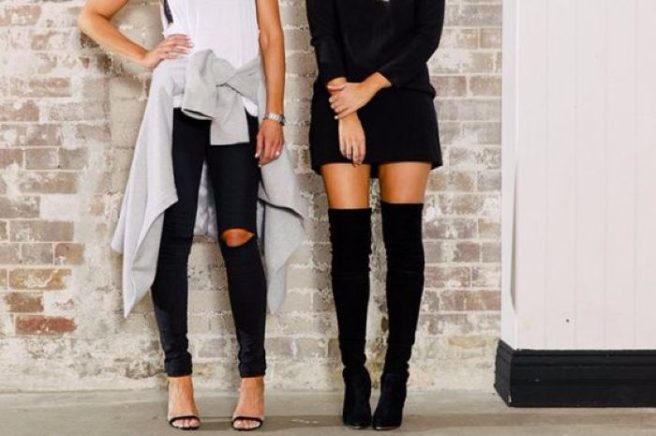 Good riddance! These fashion and beauty trends need to GO in 2017
2016 definitely won't go down as anyone's favourite year ever, with some shocking political plot twists, the death of some of the world's most beloved icons and the rise of kale, it seems like everyone had a negative experience in the year just ended.
Poor life choices weren't just confined to the polling boots and salad bowls, 2016 was the year of unwearable fashion choices and done-to-death trends.
Here's a few of the most overdone, out-dated and insipid trends that need to stop passing for vaguely trendy in 2017.
1. Lace up everything
This trend, much like the creepy guy at the late bar, came on far too strong.
From the Kardashians lacing up everything from their corsets to their thigh-high boots (more on those later) to the fashion blogging scene adopting the trend at an exorbitant rate, this bondage-esque fad was chic for five minutes and then tired for the rest of the year, though that didn't stop the lace up becoming the most popular detail on our social media feeds.
2. "Instagram make up"
Instagram is a place of beauty extremes and "eyebrows on fleek," but a specific type of "Instagram face" has become unique to the beauty bloggers and micro-influncers who inhabit the social media site.
Boxy, blended brows, acres of contour, matte, thick foundation, lashings of lashes, a ice white highlight and lips over lined with a Kylie lip kit are the hall marks of the "Instagram face," which has become far too popular.
Whether you're scrolling through your feed or strolling down Henry Street, you will more than likely come into contact with the high maintenance look that launched a million beauty bloggers.
3. Juicy tracksuits
The noughties revival was kind of amusing in an 'it's never really going to happen" kind of a way.
Keeping with the plot twist theme of 2016, noughties style actually made a somewhat chic return thanks to the ironic styling of couture house Vetements, but when the Kardashians started donning Von Dutch trucker hats and Juicy Couture brought back it's classic velour tracksuit, we knew were were just one bare midriff and chunky highlighting job away from sartorial disaster.
4. Off the shoulder everything
Yes, we loved this top back in Spring 2016. It was without a doubt the it-piece of the moment, and everything from it's stylish off-the-shoulder cut to it's semi-professional pin stripe called out to us.
However, this piece became another done-to-death trend that spawned multiple copies that trickled down through every high street store the world over, and somehow, in the first freezing days of January, we're still seeing it on Pinterest. It needs to go.
5. Chokers
Chokers are one of the more stubborn remnants from the 90s revival.
A grown-up take on the choker is more than acceptable, but any elasticised bits of plastic we would have worn while listening to our No Doubt CD and playing on our Tamogotchis is a no no.
6. Bomber jackets
For some reason, bomber jackets are clinging on by their fingernails to their on-trend status.
Now the uniform of all teenage girls, the khaki green and pastel pink editions of this classic jacket style are officially over. Especially is they are made of a cheap, satin finish fabric.
7. Celebrity "tour merch"
After Justin Bieber did a sell out run of Purpose World Tour themed merch with Forever 21, the world went crazy for paying homage to the pop stars with over sized (and over priced) hoodies featuring their favourite famous faces.
While there is nothing wrong with showing off your musical loyalties while giving your idols some royalties, some stars created "merch" when they have no tours, or discernable musical talents, whatsoever (we're looking at you, Kylie Jenner)
8. Over lined lips
We're all guilty of going a tad overboard with the lip liner in pursuit of a perfectly plump pout.
However, there is a certain art to the overlined lip that unfortunately most of us mere mortals have yet to perfect.
We've been obsessed with big eyebrows and big lips, can we move onto something else? Big noses perhaps? Please?
9. Thigh-high boots
While there is no doubt that Julie Roberts is a style icon, her over the knee, lady of the night, pleather boots have no place on 2017's fashion rota.
Another victim of the lace up trend, the Kardashian's obsession with intricately laced, impossible to navigate bondage boots spurred the trend onto the high street, where a plight called "muffin thigh" then outraged those of us without model pins who wanted in on the trend.
10. "Festival fashion"
Festival fashion has become a whole category of it's own, and what was once a smorgasbord of creative and artistic means of dressing to express your musical tastes has become a montage of fringing, crop tops and facial stickers that are officially basic.
A rainbow crochet crop top and arms decorated with flash tattoos might have been fabulous for Coachella 2012, but looks rather tragic in the rain at Longitude 2017.