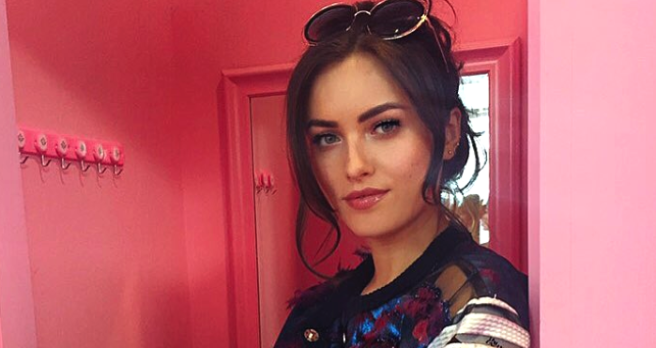 Holly Carpenter EXCLUSIVE: 'It's go hard or go home with food for me'
Holly Carpenter is a woman of many talents, not only is she former Miss Ireland and a killer model, but she also has food, beauty, fashion and yes, Snapchatting down to a fine art.
With Irish Celebrity Masterchef kicking off next Monday, January 16, Holly is ready to show her skills, although even she admits that her skills aren't that of a top chef.
"I'm a little bit competitive on the show, my skills were quite basic to start off with, but then again, it's not my job. If I owned a restaurant in Ireland, it would be totally different because that's a day-to-day job.
"But I really chose to do Masterchef to have a bit of fun, learn a bit more about cooking and really challenge myself."
If you follow Holly on social media, then you'll know all about her drool-inducing foodie snaps, and she insists that making food is pretty enjoyable to her – with the Instagram snaps being an added bonus.
"I really enjoy cooking and take my time with it. But, I'm not saying I'm the best. The stuff I make is pretty basic, like avocado on toast or oat pancakes. But add a few chilly flakes to your avocado and you have a cute picture to post on Instagram. So it all works out!
"It just shows that you don't need to be extremely skilled to have a healthy, tasty meal."
We couldn't agree more. How many of us totally forget those cooking skills we learned in Home Ec?!
And as for where she gets her love for cooking? Of course, it was her mam.
"My mum was always cooking and baking. That's where I get my love for desserts from. She was always making desserts and I would get to decorate them with her."
Holly admits that it's either "go hard or go home" when it comes to indulging in sweet treats like her mother's desserts.
"I can't just have a piece of chocolate and then stop eating it. If I'm going to have something unhealthy, I might as well just eat it all. It's go hard or go home with food for me."
But the model still keeps her great shape and puts that down to not being too strict on herself and having cheat days.
"I have intended cheat meals, whether it's pizza or cake, like, I won't say no to it. But I have those specific days when I know I'll be able to indulge in something.
"Especially over Christmas, it's so hard to avoid over-eating. There's so many dinners, and drinks and nights out. It's just about putting back in some control now."
And as for what we can expect from her Masterchef debut?
"You'll see that I can get a little bit flustered at times, but I was still kind of competitive. It's totally different from when I was on Britain and Ireland's Next Top Model. Like, modelling is what I do for a living, so if I messed up on that competition, I would have felt really bad about it.
"But I really just wanted to challenge myself with this one, and you'll see what happens."
Sure, isn't it normal to get a bit flustered? We can't wait to see what Holly cooks up on Monday, and even more so, we can't wait to see the little bit of mischief she'll bring to the show.