Dublin is getting a Christmas make over this year… New York-style
Last Wednesday marked the start of the 100-day countdown to Christmas, so we've decided it's officially OK to start getting more than a little excited.
In fact, we uttered a quiet "ho, ho, ho," when we heard of plans for a pretty spectacular addition to Dublin's 2015 Christmas landscape.
Yes, as part of a month-long new festive festival in the capital, the Fair City will be getting a HUGE Rockefeller-style fir tree to rival that of New York's.
Exciting! The tree will be erected in Dublin's Custom House Quarter at the start of the I Believe Festival, which is running from November 26 to December 23.
Donated by Coillte, the tree will be at least 15metres high. Although it'll be dwarfed by the 38metre Rockefeller tree, we reckon it will still look pretty special against the city's backdrop.
According to the festival organisers "selected charities" will take ownership of the tree throughout the festival, using the area for gift drives and fundraising.
Set in a "chalet style village," the surrounding market will furthermore offer delicious food, drinks, crafts and unique presents for loved-ones.
Santa will be appearing (natch), and visitors can even buy their Christmas trees from a dedicated market at the Point Village.
And while we love the Grafton Street lights and the bauble tree on O'Connell Street, there is always something magical about a real Christmas tree – meaning we'll certainly be heading to the Custom House Quarter for the 2015 Yuletide season.
So… basically, this is us right now: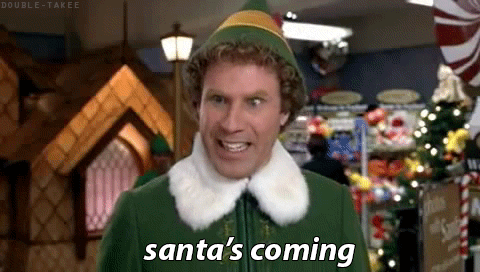 I BELIEVE will run for 28 days in the lead-up to Christmas from Thursday, November 26 until Wednesday, December 23 at the Custom House Quarter in Dublin, which includes George's Dock, The CHQ Building and its surrounding area.