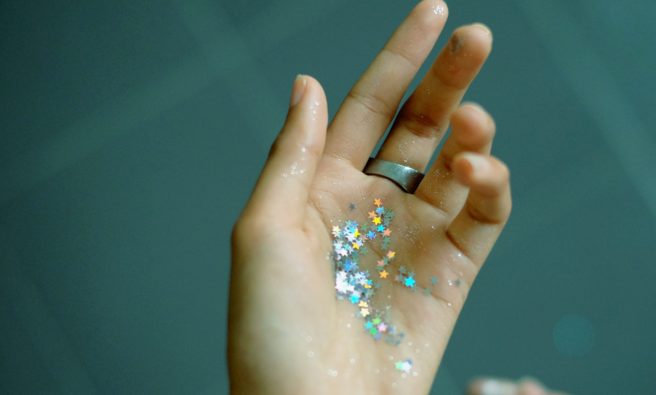 COMMENT: Why putting glitter in your vagina is a feminist issue
We live in a world where unrealistic body expectations are the norm.
From plastic-pumped celebrities who mould our beauty ideals to shop front mannequins with legs so lithe they could snap, the female form is constantly under scrutiny.
While usually these expectations have been confined to women's weight and body shape, the humble vagina is the latest body part with an altogether ridiculous beauty ideal being imposed upon it.
And by humble, I, of course, mean the amazing, life-giving, efficient, temperamental, and wondrous vagina.
A new product has been developed targeting owners of the aforementioned organs, and the 'intimacy capsules' aim is to prettify the vagina with – wait for it – glitter.
While we love a bit of glitter to adorn our festival faces, shoving a capsule full of the sparkly stuff up our vaginas does not sound all that appealing.
The capsules are designed to be inserted into the vagina, and your body apparently dissolves the capsule to create glittery emissions.
As well as making discharge and sexual secretions sparkle, the capsules promise to change the natural 'flavour' of the vagina to make it taste like 'candy. '
'The flavour is sweet like candy but not overly sweet, just enough to make your lover feel that your Yara (water-lady or little butterfly) is what all vaginas are supposed to look, feel and taste like; soft, sweet and magical!'
The fact that this company insists that vaginas are supposed to taste like candy and secrete glitter is completely ridiculous, and reinforces negative stereotypes about women.
The concept implies that the natural operations of a vagina are sub-par, and that women should stride to be precious, magical little creatures with sparkly vaginas.
Why should the vagina have to deal with the pressure of beauty ideals involving glittery discharge?
What will be expected next, a post-coital fireworks show straight from the cervix?
The issue here is the potential for unrealistic expectations, and this product's promotion of what a vagina 'should' be, ie candy-flavoured and embellished with tiny iridescent flecks.
And I get it, this product is a novelty boudoir item, but the implications are there.
There is also a health and safety issue, as honestly, these Passion Dust capsules sound like a yeast infection waiting to happen.
Oh, but if your body does respond badly to being stuffed with glitter, it's just one of the many 'joys of being a girl,' according to the company.
'Scientifically, you have already inhaled or ingested more hazardous 'glitter' and chemicals than what is in our capsules,' reads the website (we'd love to see the 'science' behind these claims).
'You have not gotten sick from those chemicals in your body because the amount that you have ingested is so small that it would take an extremely significant amount to cause you any bodily harm which is why these glitters are deemed FDA approved.'
'If you've ever had vaginal issues you had them before you used Passion Dust anyway.'
'If you've ever had a yeast infection I'm sure it wasn't caused by glitter, it just happens sometimes (Oh, the joys of being a girl!)," they add.
They also recommend that your 'special time of the month' should be given the glitter treatment too, so you can 'at least make it a pretty mess' while expelling your uterine walls.
I'll take my au natural clitoris over a glitoris any day, thanks.