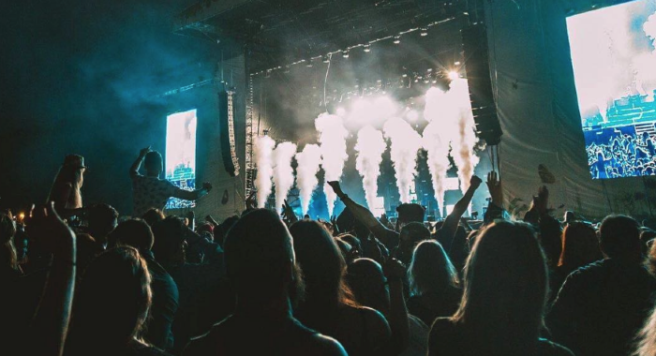 I've never been to a festival before, and this is what I'm expecting
Confession: I have never been to a festival before.
I know, I know… total shocker.
Back in the day (OK, around eight years ago), Oxegen was the place to be.
My friends in school all got tickets for Christmas or birthdays – but because I was the baby of the class, my mother wouldn't allow me to go (you're still not forgiven, mam).
And the year I turned 18? Oxegen was cancelled.
Throughout the years, I've looked out for other festivals to go to, but if I'm honest, none of them really took my fancy.
I feel like I am the only twenty-something in Ireland to never have experienced the festival scene… but now, I'm popping my festival cherry.
This weekend, I will head along to Longitude, and I'm both excited and a little bit nervous.
Nervous, because I really don't know what to expect.
How will the day begin and end? How much money will I have to bring? How will I get home? What if I lose my friends?
But even with those thoughts gathering at the back of my mind, the thoughts of excitement are bursting free.
So far, my mates have planned out the day pretty well; pre-drinks and glam time at 12.30pm, grab a taxi at 2.30pm, arrive and check out the performers at 4pm… and then party 'til our hearts' content until 2am (or until my body gives up on me).
The day sounds like a total dream, but the three things I'm really looking forward to the most are music, fashion and friends.
The music – obviously, festivals are centred around music, and the acts I'm most looking forward to seeing at Longitude is The Weeknd (obvs), Mumford & Sons, Mac Miller, All Tvvins, Skepta, Villagers and Jack Garratt.
Apparently, I've set my hopes too high and won't get to see all of the bands I want to see… but I'm determined to prove my mates wrong. How hard can it be?
The fashion – when I walk by people on the street I look out for cool style and daring fashion choices, and this is going to be no different.
One thing I need to remember though; it's not Coachella… I will not see Givenchy kimonos and Lavin dresses… but I still want to see the most extra style Longitude has to offer.
The craic – music and fashion are two of my great loves, but there's nothing better than chilling and catching up with good friends.
I'm also very intrigued to try out Heineken's new Live Your Music rooms, which allow you to control the sounds, mood and visuals of the atmosphere (which basically means I can custom-build my own nightclub to rock out in).
From pre-drinks to after-festival plans, I'll be with the best b*tches I know, and I can't wait to soak in the atmosphere and have a laugh with the fab ladies in my life.
My friends might be right – I've probably set my hopes too high and have no idea what I will encounter as I step foot onto a muddy Marlay Park.
But after this weekend, and after my first festival experience, I will report back and let you guys know exactly how I got on.
Is festival life for me?