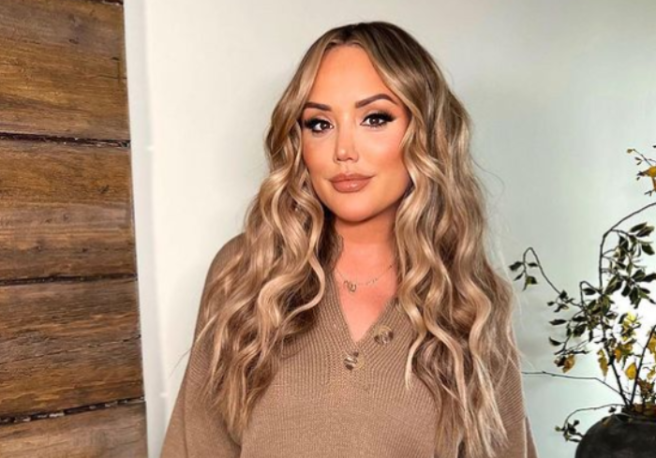 Charlotte Crosby admits struggles with postpartum body confidence
Charlotte Crosby has been opening up about body confidence.
The Geordie Shore star gave birth to her first child in October of last year, alongside her boyfriend Jake Ankers.
However, the 32-year-old has now admitted that she has been struggling with doubts about her body since welcoming baby daughter Alba into the world.
In a recent interview with new, Charlotte shared that a part of her regrets dissolving her lip fillers after giving birth. "I was a lot more confident when I had fillers," she revealed.
"It's really noticeable, to the point where it affects me and I don't feel confident in front of the cameras. I don't like it."
"I'm struggling to come to terms with having smaller lips," the new mum continued. "Getting them dissolved is not worth how I feel. I feel self-conscious and it's not nice to feel like that."
Charlotte went on to explain that her extra postpartum weight, combined with the removal of her fillers, has lowered her confidence. "I've just had a baby and I'm a stone and a half heavier, so I probably dissolved them at a really bad time. I feel bigger, so by shrinking my lips, it's made me feel like my face is even bigger," she detailed.
Although she is loving motherhood so far, the reality star spoke candidly about the effects that postpartum can have on your body. "When you have a baby, your body changes and you have these battles with your image. It's an awful time. Dissolving my lips at that point was not a good idea, but I couldn't have walked around with them that big. It was a catch-22," she noted.
However, despite her complicated relationship with her body, Charlotte feels hesitant to try fillers again. "I've not thought about getting them back, it's something I'm trying to deal with. I'm just overdrawing them until I look like a ridiculous moron," she exclaimed.
"I don't want to go back to how they looked at the end of my pregnancy because they were huge as I had a lot of water retention. But they were a nice size before that," she concluded.