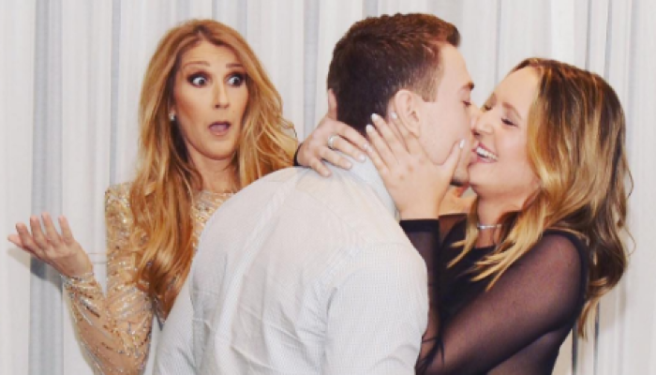 Celine Dion photobombed this proposal and her face is PRICELESS
When it comes to creative proposals, we've seen it all.
From flashmobs to time-lapse murals, coming up with a truly creative concept for a proposal can be tough nowadays.
However, one loved-up lad jumped at the opportunity to get a very famous face involved in proposing to his unsuspecting girlfriend.
Nick Janevski was dying to pop to question to his long-term love Austin Miller, who is a massive Celine Dion fan.
Taking the opportunity when they managed to wangle a meet-and-greet, Nick got down on one knee as Celine looked on, much to the surprise of both ladies.
"I didn't even say yes… for like two whole minutes I was just shocked. I just looked at Celine Dion and then we both looked at him … I just kissed him" his shocked fiance told Buzzfeed News.
"@celinedion is about the only person I wouldn't mind photobombing the pictures of our proposal," she captioned a shot of the moment on Instagram.
Celine clearly could not contain her reaction, looking shocked and delighted in the background as the couple embraced.
"I hope you have a long and happy marriage, just like I did with my husband," Dion told the duo, in a touching blessing.
This is definitely a contender for best proposal of the year.