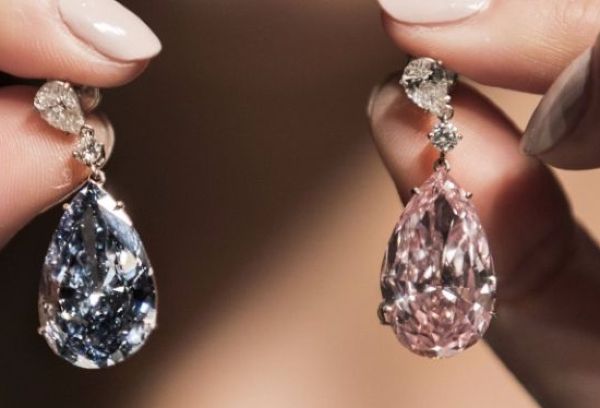 The most expensive earrings ever just sold for an absolute FORTUNE
Anyone have a spare €51 million lying around? Yeah, us neither.
However, if you did happen to win the lotto recently, you could be in the market for a VERY snazzy pair of earrings.
The world's most expensive pair of earrings recently sold for $57.4 million at a Sotheby's auction.
The blue and pink pear-shaped diamonds, (they don't even match – Kate Moss would be proud), named Apollo and Artemis, after the Greek gods, were auctioned off at Sotheby's last night.
Although the gems were sold separately, the same buyer purchased both pieces – the blue rock for over $42 million and the pink for over $15 million.
According to Sotheby's, The 14.54-carat blue Apollo is said to be the "largest internally flawless fancy vivid blue diamond ever to be offered at auction." The rock earned a rare grading of 11b, which accounts for only 1 percent of diamonds in the world.
Meanwhile, the more affordable (HA) 16-carat Artemis pink was classified as an 11a diamond, "the most chemically pure" of its kind.
Following the sale of the two stunning earrings, David Bennett, worldwide chairman of Sotheby's International Jewelry Division and chairman of Switzerland, said: "I am delighted that the stones will remain together as earrings."
The buyer, who forked out a serious fortune for these glitzy stones, has decided to remain anonymous.
While we can appreciate that these earrings are fabulous, there are definitely other ways we would go about spending €51 million.
We would literally have our own plane and island for that price – just saying.