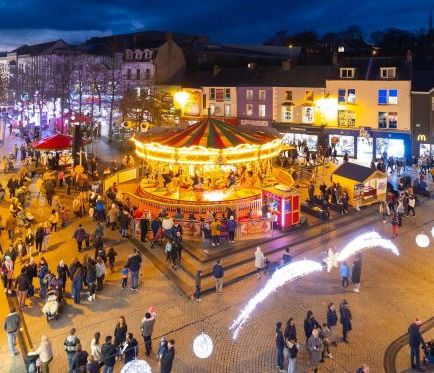 Brand new Winterval Illuminates Lightshow designed for the 2023 Festival
A brand new Winterval Illuminates Lightshow has been designed and it is set to ensure that viewers enjoy an enchanting evening spectacle showcasing a captivating dance of light that illuminates the darkness, creating a symphony of beauty, wonder and joy.
A magical evening with family and friends is in store as the very special Winterval Illuminates Lightshow is set to light up the festive season in Ireland's Christmas Capital – Waterford.
The new show designed for the 2023 incredible Winterval Illuminates features a magical array of animation sitting amidst a backdrop depicting the City's skyline which features some of Ireland's oldest buildings and of course, some friendly Vikings. The animated show is designed to tell a tale that rises and falls in time to the variety of festive melodies and even some rocking beats. The 15-minute show will culminate in a mini Snow Disco as the snow machines come to life ensuring a blanket of snowy fun for all the little ones.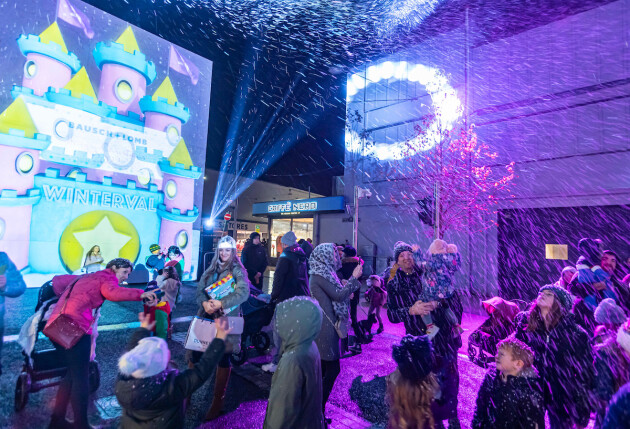 The 2023 Winterval Illuminates Lightshow is sponsored by Bausch + Lomb and it will be on offer for free every half hour at Arundel Square in Waterford City, all part of the annual Winterval Festival. The light show will be projected onto a stunning 9m high tower and will come to life at nightfall with an explosion of light, sound, special effects and of course the projection show. This feast for all the senses promises to be an event not to be missed for audiences of all ages, and it's free!
In addition, a free Snow Disco for children will be on offer each weekend at the Winterval Main Stage on Gladstone Street. Highlights include performances from choirs, fun children's Christmas discos, shadow puppetry shows by Ben Hennessey, and an array of live musicians.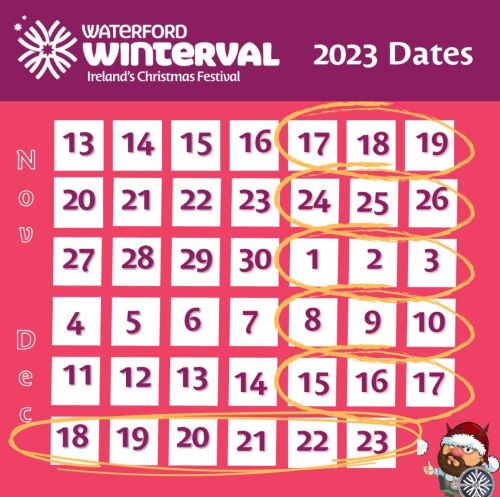 The Winterval festival will officially begin on November 17th at 5 pm with a gigantic Christmas Parade rolling through Waterford city on a 1km route from its Quayside to the top of John Robert's Square. The parade will see the arrival of Santa Claus in a special and spectacular way where he will travel to the festival's main stage for the switching on the City's Christmas lights, marking the beginning of festivities in Ireland's oldest City.
The Winterval Festival will take place until December 23rd with plenty to see and do for everyone in the family from the ice rink on the city's Quayside to the vintage Ferris wheel at Arundel Square, a vintage carousel in John Robert's Square, the Port of Waterford Eye and the Winterval mini Express train, the Elf workshops, Polish Christmas, a Gerbola Christmas Circus, Santa's VR sleigh ride, helter-skelter, helicopter trips with Santa, a fantastical 'Adventure of Narnia' show which will be hosted at a mini Big Top in the heart of the City at Jenkin's Lane and more. Santa will be taking centre stage at the festival in the city's heart on Broad Street. He will be ensconced in his candy-filled Gingerbread House in the city centre for Winterval.
The free events on the programme include a gigantic and magical talking postbox, a GLOW garden and a brand new sensory wall, a Viking Elf trail hunt, a Viking Yule Village by Deise Medieval, storytelling sessions, a free music stage, a model circus and fairground exhibition and lots more.
Winterval is supported by Waterford City and County Council and local, national and international businesses; including Bausch + Lomb, Glenveagh Homes, Expressway, City Square Shopping Centre and the Port of Waterford as named sponsors of the Port of Waterford Eye. The full Winterval Festival programme is available to view and book online at www.winterval.ie