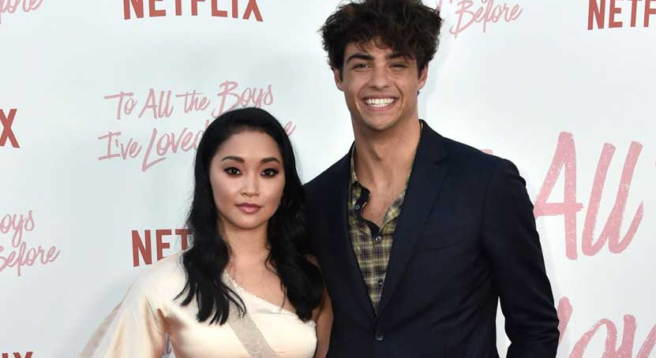 To All The Boys I Loved Before is getting a SEQUEL *squeals*
Okay, we are all going to have to stay perfectly calm here, if that's possible. We haven't stopped jumping around for joy at the thought of more Peter Kavinsky and Lara Jean in our lives.
That's right, Netflix' big teen romance flick of the year, To All the Boys I've Loved Before, is getting a SEQUEL. *wheezes*
All levels of chill have officially been abandoned, because this is what we've been waiting for ever since Noah Centineo became the internet's new boyfriend with one simple phrase; "Whoa, whoa whoa."
The Hollywood Reporter is claiming that P.S. I Still Love You is "one of the first movies being discussed" as part of Netflix and Paramount Pictures' brand new deal.
For anyone who has read the books by Jenny Han, the book is actually part of a trilogy. Meaning that there are pages and pages of sheer love-themed EXCELLENCE waiting for us, and for Netflix, to crave.
Always and Forever, Lara Jean is the final book in the series, and we've already ordered it online so we can fangirl, *ahem*, we mean research the series, for work purposes only…
You may remember that our pal Lara Jean sent five letters originally, and we met each of them except one; John Ambrose McClaren from model UN.
We're guessing that he will make an appearance in the sequel, and maybe cause some mischief between Lara Jean and Peter. Jenny Han has written that McClaren sparks a friendship with the protagonist by writing her letters.
"There's so many things in the second book that I would love to see in a sequel," she told Indiewire.
"The whole reason why I wrote a second book was for the character of John Ambrose McClaren, who is a fan favourite, and he's a favourite of mine too."
Susan Johnson, the director of the first movie, told Entertainment Tonight; We're so invested in Peter and Lara Jean, that seeing them go through struggles is going to be hard but also something everybody can relate to,"
"The next shiny face comes in and you're like, 'Oh shoot, this guy's really nice too. What do I do?'" LJ & Peter might just hit some trouble in paradise.
Our favourite new shining star Lana Condor confirmed that she and the rest of the cast are definitely up for a sequel;
"I would love to. I haven't heard of anything official, but I've heard some very positive things," she said. "I think it all comes down to if people watch the movie and if they're vocal about it in a positive way. So, we'll see. I would love to do a second and a third one."
"Noah, Israel, Janel, everyone — we all talked about wanting to start the second one immediately after. So, we're definitely on board." YAS NOAH.
And breaketh the internet they did, fans all over the world were petitioning for two more films straight after the initial one was released.
Now that's dedication to the ship.