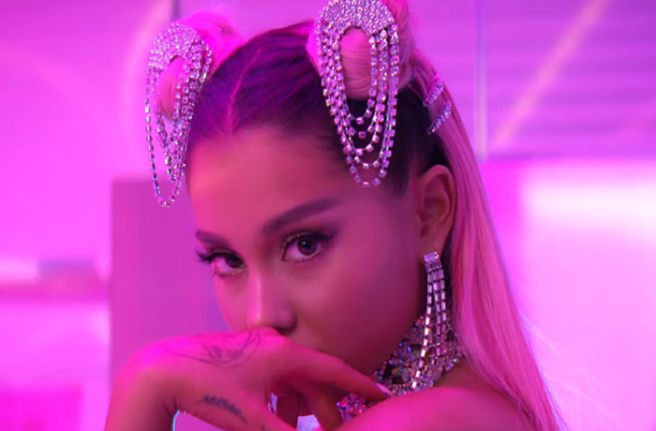 Ariana Grande's setlist for her forthcoming album is FIRE
Ariana Grande is doing things HER WAY from now on, including dropping an album whenever the heck she wants, reminiscent of Beyonce'e Lemonade.
Despite the fact the 25-year-old singer only dropped Sweetener in August, and blew our minds with its girl power greatness, her forthcoming album Thank U, Next will drop on February 8.
We, for one, CANNOT WAIT to hear the tunes in all their pop gloriousness, judging by how incredible her latest song 7 Rings is.
two albums in six months huh. that's deep. love u. talk sooon.

— Ariana Grande (@ArianaGrande) January 21, 2019
Ari has given us a taster for what's to come, posting the album's setlist to her Instagram account and sending her fans into a frenzied furore.
The gal can pretty much do whatever she pleases considering her phenomenal success, a Billboard number one album and numerous Top 100 songs from the same release.
The album has 12 tracks, including recent tunes such as Imagine, 7 Rings and, of course, the great Thank U, Next.
She grouped the songs into three categories of four, which probably has a deeper meaning but we sadly don't have this insider knowledge as of yet. Hit us up if you know any deets.
The names are already iconic; Fake smile, bad idea, ghostin, NASA, make-up, and our personal favourite, break up with your girlfriend, I'm bored.
Ari had a rough year in 2018, with her much-publicised break-up, her ex-boyfriend's overdose and the grief from Manchester's bombing attack.
She has recently tweeted that releasing the album just before Valentine's Day isn't to get her fans in the mood for love, it's to get them empowered as strong, single woman. We stan.
happy valentine's day https://t.co/ewz1W1Q4Zg

— Ariana Grande (@ArianaGrande) January 21, 2019
Nevertheless, she persisted. Ari is one talented woman, who is giving us some pure fire in the form of music.
The album can be preordered from Friday, and we'll even get the ARTWORK to drool over too.
This girl keeps on giving, get ready for even more greatness people.