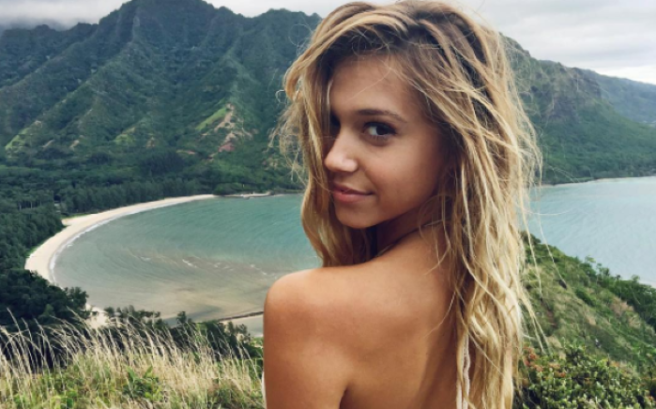 Alexis Ren just opened up about her disordered eating and exercise
At first glance, 20-year-old Alexis Ren seems to live a charmed life, sharing filtered snaps of tropical locations and amazing experiences with her 9 million Instagram followers.
The stunning model shares hundreds of bikini snaps on her page, showcasing her enviable good looks, but the LA native admits that it's not always as it seems.
The Instagram super star has previously opened up about her body confidence issues, and admitted that despite being called perfect by her followers in every comment section, the model has struggled with a punishing regimen.
Now, the Insta model has revealed to Cosmo that working in the cut-throat modelling industry left her with major body confidence issues.
While working in Australia, the model gained a bit of weight without noticing, but her agency certainly did.
'They were like, 'You did gain weight and if you could start working out a little bit more…'" she told Cosmo. '
'I just felt so out of control.'
'I was my worst critic ever,' she said. 'The only sense of relief I had was to be able to monitor my eating and my workouts.'
The star previously admitted via Twitter that she struggled with disordered eating.
Taking to the social media site, Alexis said that she has previously pushed herself to the point of malnourishment through her work, and that this unhealthy state is apparent in her older posts.
She also stated that she previously struggled with a 'toxic state of mind' when it came to food and fitness.
I am now healthy and able to eat full meals without guilt. I workout because I love it…not to punish myself.

— Alexis Ren (@AlexisRenG) April 30, 2017
She felt that people only liked her for her body, and felt forced to push herself to maintain it.
Alexis also revealed that she felt some guilt about her negative state of mind.
'I would look at my profile and be like, "Look at this girl! She has, like, the most perfect life!' and I would feel so guilty for not feeling blessed all the time,' she told Cosmo.
Thankfully, Alexis is moving past her disordered thoughts about her body, and told her Twitter followers that she no longer uses food and exercise to punish herself.
Kudos to Alexis for pulling back the perfectly-filtered veil on her Instagram life to reveal the real struggles behind it.