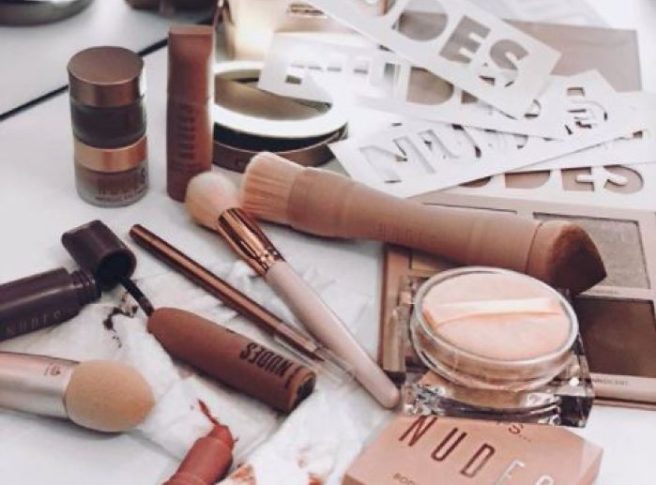 A KKW Beauty dupe has landed in Penneys, and it is absolutely DIVINE
The Nude look is in, with 2018 trends paying tribute to highlighting features of the face, capturing light whilst creating a glow to the skin.
It's all about clear skin, a minimalist eye and nude lip, a celebration of a look so subtle it's barely there.
Last year, Kim Kardashian launched her KKW Beauty brand, and the Internet went crazy for it.
However, as gorgeous as the brand is, it does not come cheap – and by the time you've paid for shipping and VAT, you may find yourself half broke.
Well, the Penneys GODS have blessed us with a cheaper, but just as wonderful alternative to KKW Beauty.
Primark Beauty is challenging the "norm" and championing diversity, celebrating you, for the individual.
Their new PS… Nudes range is NEXT LEVEL, with so many seriously amazing products to try.
First up we have the PS… Nudes Highlight and Contour Kit, with contour and highlight duos for precision application, and a gorgeous sponge/ brush combo to blend and buff to perfection. Finish with a touch of light with the brow highlighter to lift the whole look.
Then there is the majestic Highlight and Contour Palette that contains smooth blendable powders that help you build a perfect base that's barely there, but with an added glow.
We also NEED to talk about the eyeshadow palette, because sweet Jesus it is GOOD. With an amazing 28 buildable, blendable shades you can create a look to suit your mood, from barely there to a sultry nude smoke, and everything else in between.
Did we mention that the 28 SHADE palette costs a tenner? We're salivating.
There are gorgeous nude lipsticks and matte liquid lippys in colours to suit absolutely everyone.
Anyway, if you need us, we'll be in Penneys, filling our baskets FULL of this amazing new collection!