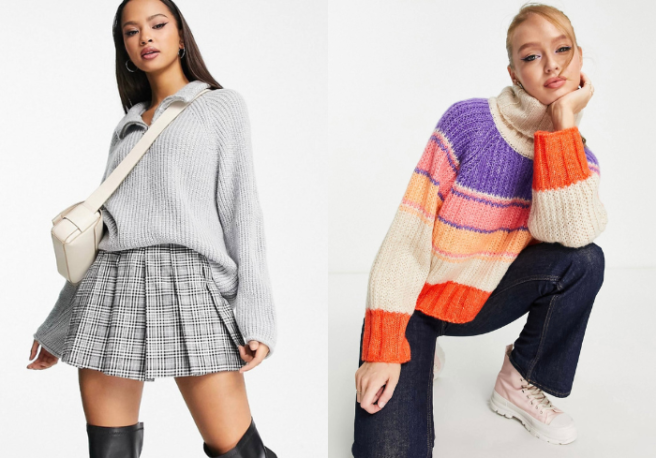 7 stunning jumpers that you need for your winter wardrobe
Has anyone else been really feeling the cold these past few weeks?
The winter weather is well and truly upon us, with lots of snow, ice and freezing cold days. If there's one thing that this cold spell has taught us, it's that we're in dire need of a refresh of our winter wardrobe.
Many of our jumpers have been re-worn so many times that they've gone bobbly and out of shape. Plus, a lot of them are in dark and dreary colours, and we're in desperate need of some vivid colour to see us through these final few weeks of winter.
So, if you're like us and you're looking for some brand new, colourful and chic jumpers, then fear not! Below, we have collected a list of our top picks from a few of our favourite retailers, to give you an idea of what is on offer right now. We're obsessed with all of these, and we think you will be too:
Marks & Spencer Pure Cotton Ombre Ribbed Relaxed Jumper (RRP €50)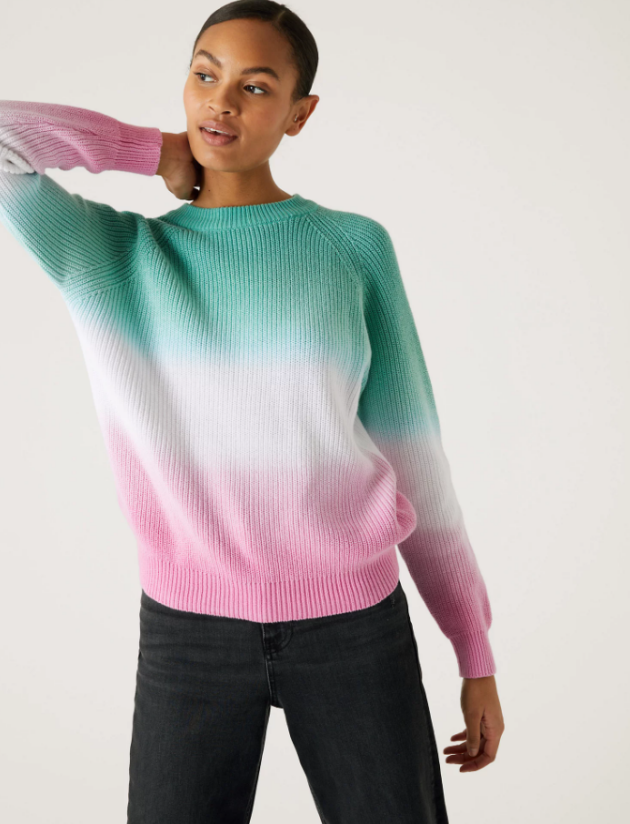 Any ombre lovers in the house? We think you'll enjoy this one! Marks & Spencer have a few ombre jumpers in their collection this winter, but this one is our fave. We love the colour combination on this piece, and its material will keep you super warm throughout winter whilst also being transitional once spring rolls around. Available to buy here.
ASOS DESIGN oversized jumper with zip collar in fluffy yarn (RRP €43.99)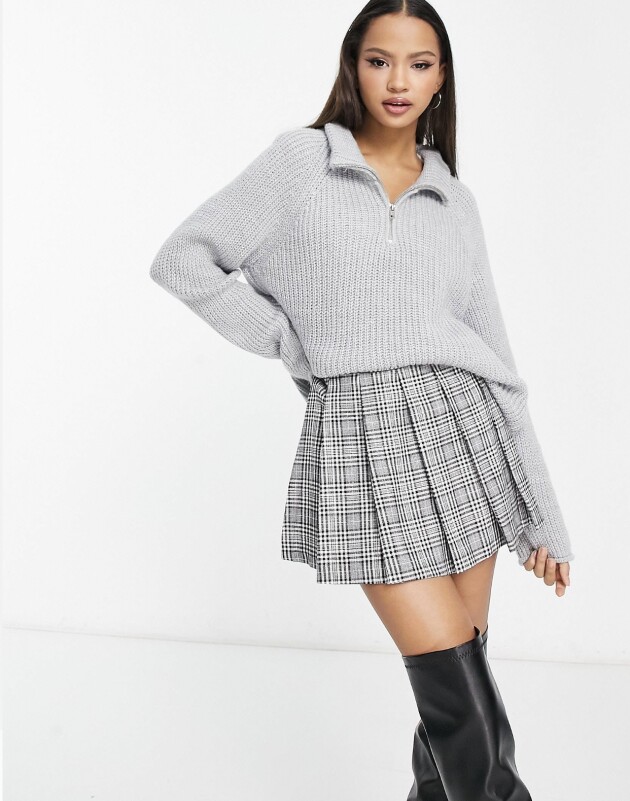 This style of sweatshirt-jumper has become increasingly popular in recent months, and we can see why! We love the simplicity of this one from ASOS, and its zip detailing gives it the perfect casual feel. We also think that the neckline and collar is super flattering. This piece can also be found in a cream shade, too! Available to purchase here.
Topshop knitted colourful cable stitchy jumper in multi (RRP €53.99)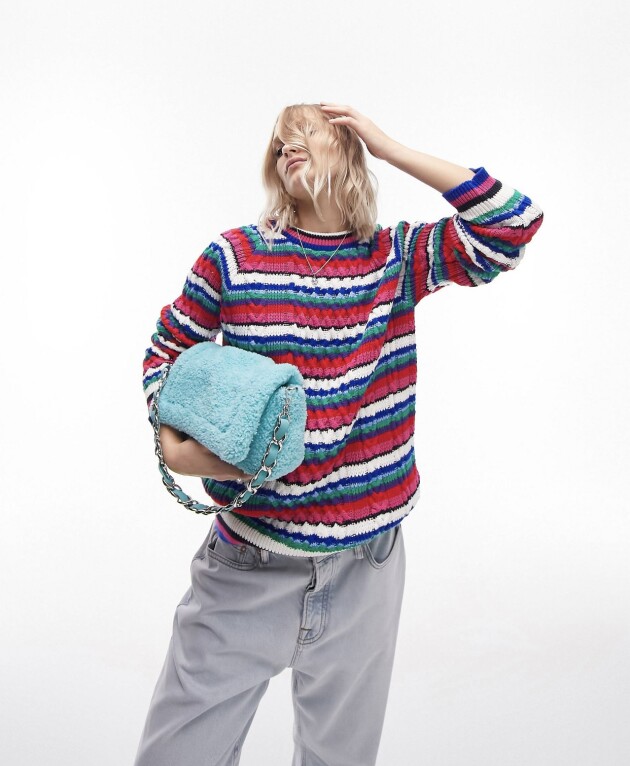 This jumper instantly gave us serious 70s vibes, and we couldn't help but fall in love with it! This gorgeous number from Topshop is guaranteed to keep you warm and cosy all throughout winter. Pair it with your favourite jeans or some black leather trousers, and you're good to go. Available to buy via ASOS here.
Marks & Spencer Cotton Rich Ribbed Longline Jumper (RRP €50)
This jumper has a fairly simple design, but we instantly fell in love with its colour! Winter wardrobes can often feel gloomy with its dark colours, and so we love any opportunity to brighten things up occasionally. This M&S jumper certainly does the trick! Its beautiful sunshine nature makes it the perfect transition piece into the spring months. However, if yellow isn't your thing but you still love the style of the jumper, then be rest assured that it is also available in oatmeal and bright pink. Available to purchase here.
Dunnes Stores Stripe Funnel Neck Jumper (RRP €20)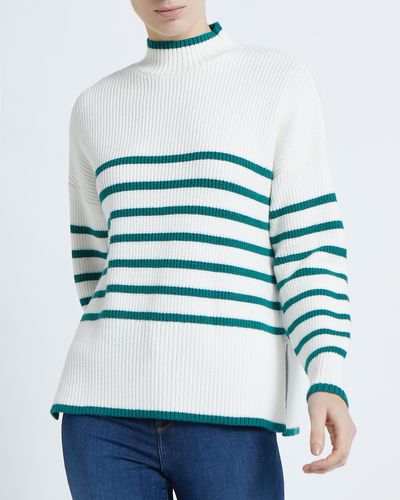 Who doesn't love a classic stripe jumper? We're currently obsessing over this white and green one from Dunnes, which looks so cosy for this time of year. It is also available in a black and white alternative, to allow you to mix and match. Perfect winter vibes! Available to buy here.
Next Crew Neck Jumper (RRP €34.50)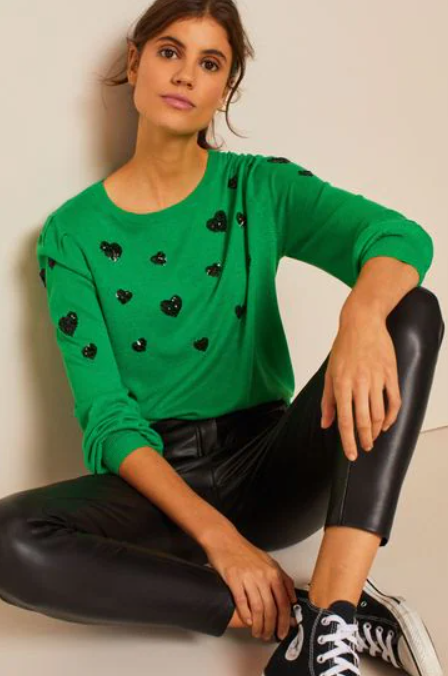 Yes, we know, Valentine's Day is still a few weeks away, but we can't resist this jumper from Next! We love this gorgeous green shade, which would look flattering on any skin tone, and the black sequined hearts pattern gives it an extra sweet touch. This style of jumper is also available in a bunch of different styles and colours… we're tempted to get them all. Available to purchase here.
Pieces roll neck jumper in pastel stripe (RRP €52.99)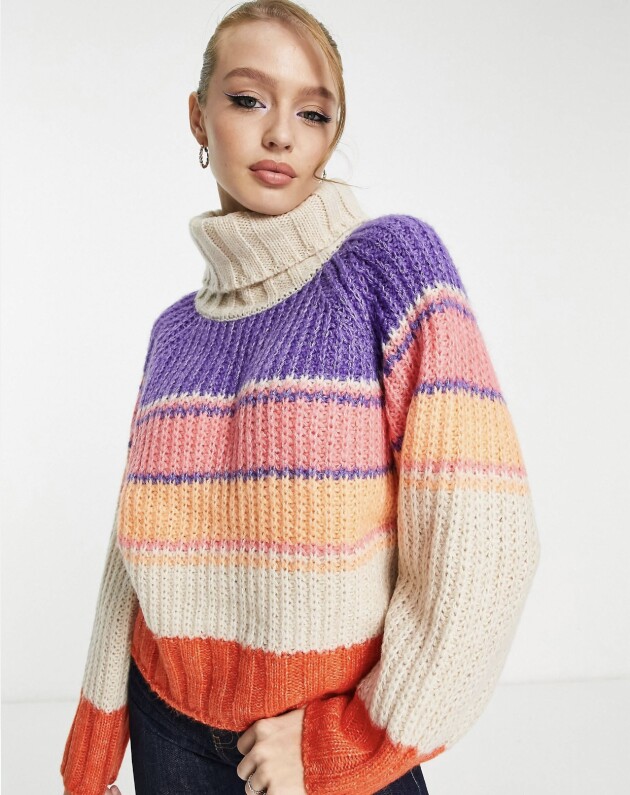 If you love a colourful jumper, then this one is for you! Pieces are currently offering this super chic pastel jumper, with the cosiest of roll necks. Its relaxed and boxy fit makes it cosy for the winter months, and we love its striped design. Available to buy via ASOS here.