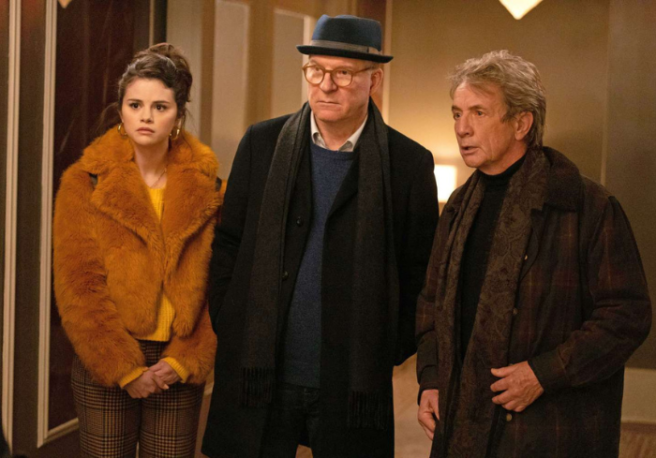 10 iconic Selena Gomez outfits from Only Murders In The Building
If you're an avid viewer of Only Murders In The Building, then you'll know all about Selena Gomez's incredible fashion moments on the show.
As the character of true crime podcaster Mabel Mora, Selena has treated us to some stunning looks, ever since OMITB first launched on our screens back in 2021.
The show is currently airing its third season on Disney+, and the ongoing murder mystery (which also stars the likes of Steve Martin, Martin Short and Meryl Streep) has got us envious once again of Mabel's versatile wardrobe.
In honour of Miss Mora, we thought we'd take a deep dive into 10 of her best looks so far. Mabel definitely shines the most during the autumn and winter months, and as our weather slowly begins to change, we could definitely be doing with a few new pieces of knitwear!
Have a scroll through Mabel's best fashion moments below, and see if any of them catch your eye:
Season 1, Episode 1
Of course, we have to start out our list with Mabel's very first outfit! Selena's pilot look has become iconic with many OMITB fans, simply for its striking, fluffy yellow pieces. As this is the first time that we see Mabel on screen, we think this is the perfect way to introduce us to our favourite witty and sarcastic millennial.
Season 1, Episode 10
Even though this outfit quickly gets ruined by the blood of another murder victim, we still admire it every time we rewatch Only Murders! We get a better glance at it in season 2, as Mabel consistently recalls the night of the murder. Despite the gruesome blood stains later on, we think this cream polo neck and plaid skirt duo is so chic!
Season 2, Episode 1
When attending a posh party at an art gallery, you must dress for the occasion – and Mabel definitely does just that! For her first meeting with her season two love interest Alice (played by Cara Delevingne), Mabel dons this beautiful orange silky dress, which she later reveals is from her aunt's wardrobe. A great sense in fashion must run in the Mora family!
Season 2, Episode 1
Doesn't this brown turtle neck jumper just scream 'cosy'? In most episodes, Mabel's wardrobe tends to lean towards comfortable and trendy, and this sweater does just that. We're desperate to get our hands on something similar!
Season 2, Episode 3
Mabel absolutely loves a plaid or checked pattern in her style, and this cardigan is no different! We love the lime green trim on this cropped cardigan, as it gives it a beautiful pop of colour. This would undoubtedly be a staple in our wardrobes for the autumn/winter season!
Season 2, Episode 5
As we all know by now, Mabel never fails to pull out all the stops when it comes to a party outfit – and we're obsessed with this look! For Oliver's murder mystery party, she chooses to wear this gorgeous blouse and maxi skirt set, with a swirled marble print. Mabel then completes her look with a slicked back hairdo and statement earrings, which are so stunning!
Season 2, Episode 6
You can't survive New York in wintertime without a huge, cosy coat, and Mabel knows it! In this episode, the fashionista opts for this gorgeous white trench coat, which allows it to be tied around your waist. Not only is it extremely suave, but it also gives off the perfect detective look.
Season 2, Episode 7
OMITB viewers will know that real-life Mabel technically never wears this outfit, as it is only seen in an imagination she has when trying to piece the murder puzzle together. However, we think it still deserves a spot on our list! This yellow jumpsuit is so striking to look at, and is super flattering on Mabel. Plus, it looks so cosy that it could easily be passed off as pyjamas, making it the perfect ensemble to lie around the house in.
Season 2, Episode 10
As Charles, Oliver and Mabel prepare to unveil the Arconia's latest murderer, the youngest podcaster goes smart-casual with this cosy, charcoal grey jumper and flattering pair of light grey trousers. We absolutely love this look – perfect for chilled days in the office when it's pouring with rain outside!
Season 3, Episode 1
Mabel's fashion sense in the ongoing new season of OMITB is definitely keeping up to date with our latest trends, as proven by this adorable ensemble! Jumper vests are having a 'moment' in clothing shops right now, and we love this one that Mabel is wearing in the opening episode of season three. Pair it with a collared white shirt, and you've got the ideal smart-casual outfit!