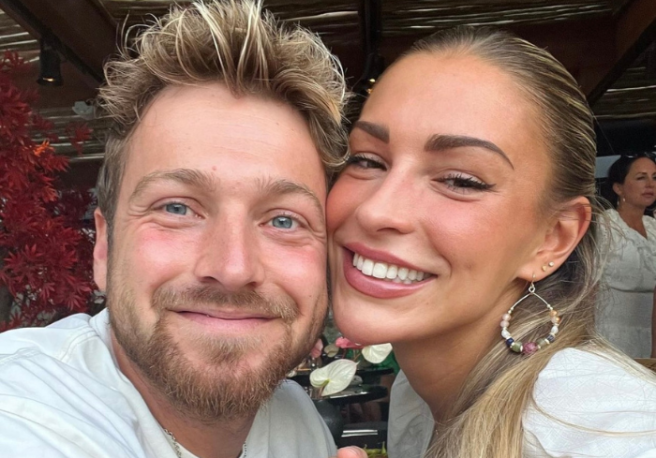 Zara McDermott reveals Strictly's impact on partner Sam Thompson
Zara McDermott has revealed how her ongoing stint on Strictly Come Dancing is impacting her relationship with Sam Thompson!
The former Love Island star is currently in the lineup for this year's Strictly series, and is partnered up with professional dancer Graziano di Prima.
As she continues her run on the hit BBC dancing show, Zara has now opened up about how Strictly has been changing her daily life, including her relationship with Made In Chelsea star Sam.
In an interview with OK!, the 26-year-old was asked how Sam has been coping with the intensity of her training schedule.
"I feel like there's just a level of understanding from every side that Strictly is all encompassing, and it has to be if you want to do well in the competition," Zara explained.
"You have to put the hours into training. You have to be really dedicated. Even when I get home, I'm watching my routine over and over again. Sam is amazing, he literally watches with me and I show him videos from the day," she praised.
The documentary maker then went on to detail how her romance with Sam constantly changes with 'balance'.
"I think relationships are not always completely balanced. Sometimes someone needs a bit more support, sometimes the other one does – and that's how I see relationships in general to be honest. It's all about communication, you know? You only get to do Strictly once!" she exclaimed.
In their joint interview, Graziano – who married his wife Giada last July – also took the opportunity to note that Zara has bonded with his own loved ones.
"She's part of my family. I think she sends more messages to my wife than me," he joked.
"We are part of each other's families and each other's lives, and I think we will be for the foreseeable," Zara agreed, adding: "You build such a close bond and partnership, you get to know each other so quickly that it's like a really unbreakable bond."