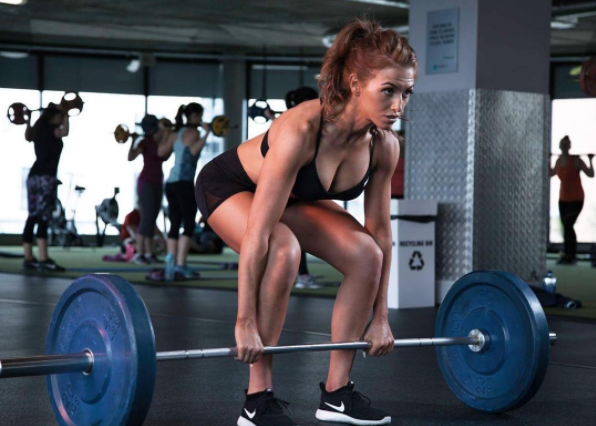 What I Eat in a Day: Siobhan OH's athlete diet includes Nutella
If you haven't heard her name yet, you have certainly seen her abs on the 'gram: Siobhan O'Hagan is a personal trainer whose Instagram account has been inspiring us to hit the treadmill.
Winner of the #FitFam award at the inaugural SHEmazing Awards, Siobhan struggled with her weight growing up and tried every fad diet and exercise plan before finally finding peace with her body and her weight.
Founder of the online training program OH Fitness Factory, Siobhan leads a very healthy lifestyle but she doesn't survive solely on grilled chicken breast and steamed veggies: she knows that a balanced lifestyle includes some tasty treats…
What is your typical weekday breakfast?
I usually try and train early in the day so it would be some fuel for training. I love oats with chocolate protein to make protein porridge.
What about lunch?
I don't usually have a set lunch/dinner because I eat so frequently – up to 6 meals a day – but one of my staple meals is Kerrigan's turkey burgers with sweet potato fries and salad. It's a well-balanced meal that is tasty and quick, which is how I like my meals!
What do you usually have for dinner?
I could actually have the same meal above again! I also make stir fries, curries, macro-friendly desserts… I love strong flavours and can't stand boring food.
Is it different at the weekend?
I might go a little looser at the weekend, depending on my plans.
I would usually aim for a cheat meal to fit in with any social occasions I have.
Do you snack during the day?
I don't actually need to snack because I am eating so frequently. But if I was on the go and had to grab something, I would get some popcorn, rice cakes, a protein bar or even some deli chicken.
What would be your ideal food day?
Protein porridge (yes I love it that much!) for breakfast, then lunch in Ruby's in Swords (all three courses because I would have to get the Nutella Pizza for dessert).
Dinner would be in Bar 13 in Alvor, Portugal for the best tapas ever, in the most amazing setting!
The one food you could have everyday for the rest of your life?
Pizza. No wait, Nutella. Or Salt & Vinegar Pringles. I couldn't decide!
What is your favourite dessert?
I'd have to say the Nutella Pizza in Ruby's! Although I still do love the Romantica my mam gets for me on my birthday for the last 28 years!
What is your favourite meal of the day?
My post workout meal, whenever that is. I love the feeling of training hard and coming home to eat loads of carbs to replenish the body!
Your favourite restaurant in Dublin/Ireland/the world?
Probably Ruculla in Alvor, Portugal. You need to book a table there before you book your flights. Their fillet steak is just perfection.
The best brunch place in Dublin?
I don't get to brunch much but I do love Cleaver East and the bottomless mimosas!
Any "food pet peeves"?
It frustrates me when people class food as good or bad. I see so many recipes with 'good clean' ingredients that are calorie laden and people label them 'guilt free'. There is room for everything in moderation, even Nutella.
What food would you not eat for the whole world?
Broccoli, can't stand it!
What can we always find in your fridge?
Kerrigans turkey burgers – people always ask do I not get sick of them but I've been eating them for a few meals a day for years.
You have friends over for dinner, what do you cook for them?
I wouldn't be great at cooking for entertainment – I'd probably order in Thai food!
Do you find it hard to eat a healthy diet in a daily basis?
No not at all. I follow a flexible approach to dieting so I am eating lots of good whole foods but also a few treats thrown in so that I don't feel restricted.
What is your guilty pleasure?
Nutella on corn cakes!
What is you go-to drink/cocktail in a bar/pub?
I love a Hendricks and Elderflower tonic (notions!!)
Your favourite place for a drink in Dublin?
I don't go drinking in the city much! When the sun is shining, The Old Schoolhouse in Swords has a great beer garden and atmosphere
Featured image: @shaundebarra