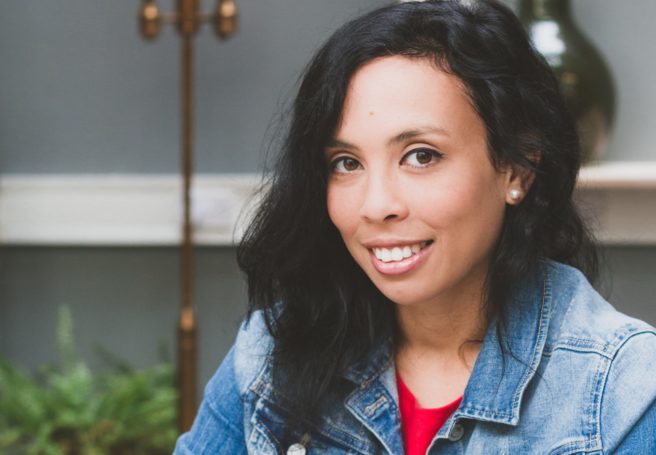 What I eat in a day: French Foodie in Dublin on her love for Irish food
Ketty Quigley has been eating her way through the Irish capital for more than ten years and has been blogging about it for more than five.
Her successful blog French Foodie in Dublin got her to be named Food Influencer of the Year 2017 at the inaugural SHEmazing! Awards and she has been using her knowledge about the Dublin food scene to create Delicious Dublin Tours.
This is why when Ketty suggests a restaurant or a bar in Dublin, we are listening carefully!
For SHEmazing!, the French lady is sharing some of her favourite places in Dublin and also how she balances out her taste for rich food.
What is your typical weekday breakfast?

I eat porridge every morning for breakfast, it's great fuel after an early morning run and the only breakfast that keeps me full enough until lunch!
I like putting lots of different toppings in my porridge: seasonal fruits, nuts, dried fruits, seeds and anything that makes it a bit less boring.
When the weather is warmer I struggle to eat porridge and replace it with yoghurt and fruits.

What about lunch?
My office is only a 7 minute walk away from my place so I go home and most of the time I either eat the leftovers from the night before or I quickly cook something with what I have in the fridge and pantry.
I often make salad bowls with a base of grains (I love couscous) or starch and whatever vegetables I have in handy. I don't have a typical lunch, it could be a nice salad, pasta carbonara or even avocado on sourdough toast with sriracha if I don't have much time.
Sometimes though I sneak into 147 Deli for one of their delicious sandwiches, as a treat!

What do you usually have for dinner?

Dinner is better because I have more time and always cook something from scratch. I love using Jamie Oliver's cookbooks or the Ballymaloe course cookbook to find inspiration in the evening and cook something simple but tasty.
There's very often something meaty and a bit of veg, although my husband and I tend to eat too many carbs (I'm a sucker for pasta and potatoes). Dinner can be duck confit with gratin dauphinois and a green salad or lamb koftas with a cucumber and tomato salad.
I like cooking lots of different things, it relaxes me in the evening.

Is it different at the weekend?

I really treat myself at the weekend… I cook nice brunches and I usually eat out at least once during the weekend.
This is the time of the week when I splurge in Fallon and Byrne or Temple Bar Food Market, cook and eat indulgent things!

Do you snack during the day?

I rarely snack during the day, just because I never buy snacks when I go food shopping. I'm human though and sometimes I have something small like a macaron or a piece of dark chocolate.
There's one exception though, when I'm hungover I could snack all day long, but that doesn't happen too often…

What would be your ideal food day?

The bacon sandwich from the Pepper Pot for brunch, dinner at Forest and Marcy and cocktails at Peruke and Periwig.

The one food you could have everyday for the rest of your life?
Moliterno al tartufo, a truffle cheese from Sardinia.

What is your favourite dessert?

Floating islands – it's been a favourite of mine since my childhood, but very few places ever have it on their menu.

What is your favourite meal of the day?
It only happens at the weekend, but my favourite meal has to be brunch. I associate brunch with having time off and being relaxed, and just love putting together something simple and flavoursome.

Your favourite restaurant in Dublin/Ireland/the world?

Forest and Marcy, the chef is talented and creative and I love the casual atmosphere.
Closely followed by Delahunt and Etto, they're very consistent and showcase Dublin's vibrant and emerging food scene.

The best brunch place in Dublin?
My apartment, that's why I rarely eat out for brunch.

Any 'food pet peeves'?

This might be controversial but I'm not a big fan of people who self-diagnose themselves with food intolerance.
I also don't really understand people who call themselves 'foodies' yet have a long list of things they don't eat.

What food would you not eat for the whole world?

I know it's likely to become the food of the future but I'm scared of eating insects. I'm sure I will try at some stage but yes, I still have a mental block.

What can we always find in your fridge?

Nduja – this spreadable pork salami from Italy is delicious on pizza, as a pasta sauce or even just lightly grilled on bread, I could eat it all day.

Sriracha – I love siracha sauce as it spices up any meal.

Irish butter – Ireland has some of the best butter in the world so I'll always have at least one big stick of Irish butter at home.

You have friends over for dinner, what do you cook for them?

I love having friends over for dinner and never cook the same thing.
It could be homemade pizzas, a crepe or raclette party, a Middle Eastern feast, traditional French food or lots of tapas… I like changing the theme of my dinner parties!

Do you find it hard to eat a healthy diet in a daily basis?

Yes… because I tend to be a bit too much of an Epicurean! I don't eat junk or processed food but I tend to eat homemade food that is quite rich.
I'm conscious that I don't eat as much vegetables as I should be eating and I don't drink enough water but I exercise a lot. I never feel guilty though, food is pleasure for me and life is short!

What is your guilty pleasure?

A dirty burger from Wowburger.
What is you go-to drink in a bar/pub?

When I go to the pub, I try to order craft beer and usually an IPA, whenever possible.
I mostly go to one of the Galway Brewery pubs, I love their double IPA 'Of Foam and Fury'. I never drink wine in pubs or bars but I love a good cocktail sometimes.

Your favourite place for a drink in Dublin?

I like the Black Sheep and P. Mac's for beer, Peruke and Periwig or the Vintage Cocktail Club for cocktails.