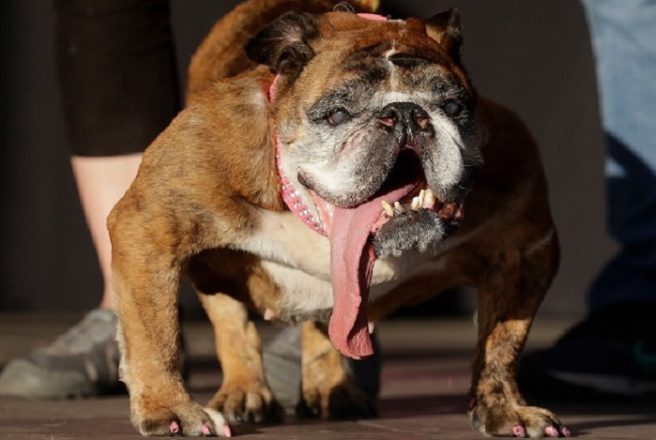 We're calling fake news over this World's Ugliest Dog winner
Nope, we're not having it.
This is the new Ugliest Dog in the World- Zsa Zsa, a nine-year-old English bulldog. I'm sorry, but that dog is adorable.
When news of this broke, Twitter erupted with a tsunami of outraged tweets in response to Zsa Zsa's new title. Users did not seem to agree with the outcome of the contest and were quick to jump to Zsa Zsa's defence, claiming that she was, in fact, "the cutest."
Agreed.
Zsa Zsa is the cutest ugliest dog I've ever seen #ugliestdogcontest #ugliestdog

— Sarah Wants #Timeless Saved (@Sarahh_v_rhue) June 24, 2018
I love her. I want to take to the streets with her and leave only slobber behind. #ZsaZsa #ugliestdog https://t.co/UVgCjmuzDC

— Alex May (@alexmay_writer) June 24, 2018
Zsa Zsa, the world's #ugliestdog but still #adorable. #dogsarelove pic.twitter.com/k1nnD71xSu

— Caz Goodwin (@Cazgoodwin) June 25, 2018
One user tweeted, "This dog is BEAUTIFUL!!!" while another agreed saying, "Awwwwwww…I think all dogs are cute."
The proud owner, Megan Brainard of Anoka, Minnesota, will receive $1,500(€1300) for the winning the contest.
Zsa Zsa's human is loving the overwhelmingly positive response that Zsa Zsa was receiving on Twitter. According to The Star Tribune, she said that ""She is just so ugly, she's beautiful."
Preach.
While the dogs are not the most aesthetically-pleasing, Twitter really rallied behind them, showering them with love – whoever said that lolling tongues, squished faces and hairless bodies weren't cute?!
Meet the dogs that competed for the World's Ugliest Dog prize

(…they're all beautiful to us) https://t.co/rI9M5zrDBM pic.twitter.com/LswjoyHVnK

— BBC News (World) (@BBCWorld) June 25, 2018
We can all agree that though she may be a winner of the Ugly Dog Crown, Zsa Zsa is the cutest ugly dog we have ever seen?!