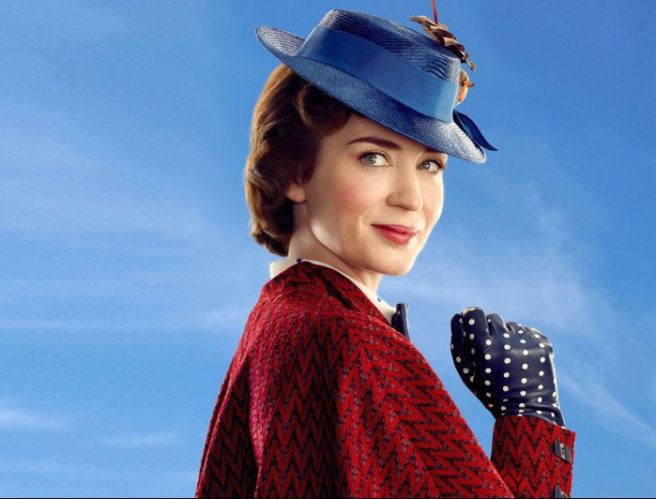 Watch: This amazing scene from Mary Poppins Returns wasn't CGI
It's gotten rave reviews and looks set to be a triumphant return for the beloved Mary Poppins.
And now a behind the scenes clip shows the lengths Emily Blunt went to to avoid special effects being used in one of the scenes.
The scene is question is the one with the bathtub where Emily drops toys into it while singing Imagine That.
You know that bathtub shot in #MaryPoppinsReturns you assumed was CGI? (via @disneyamore) pic.twitter.com/gAlLqCGdbM

— CafeFantasia (@CafeFantasia) January 12, 2019
The footage shows Emily as she sits on the edge of the bathtub, in a scene that shows her being sucked down into the tub – which is precisely what happened.
Cafe Fantasia released the clip on Twitter, showing the 35-year-old getting pulled down into the bath tubs filled with bubbles and sliding down a chute backwards to the safety of crew under the set.
How unbelievable is that?
I'm so glad you showed that! I sat through the whole movie wondering "how did they do that?" . And not just that scene. Truly magical!

— Ann Rock (@rockfitz) January 13, 2019
Emily opened up about the scene in a Q&A when she said, ''Everyone involved was very insistent that as much as possible we would build practical sets that we could very much interact with.''
She continued, ''And so what they did with the bath, which the kids thought was the best thing ever, was that they actually carved a hole in the bottom of the bath and had a slide which went under the stage.''
People were in awe of how the scene was shot and took to social media to express this.
One said, ''Oh wow! This film just keeps getting better and better! Practical effects over CGI everyday.''
While another wrote, ''It's amazing just HOW much they did in camera, isn't it.''
It's another reason – as if we needed one anyway – to go and see it.