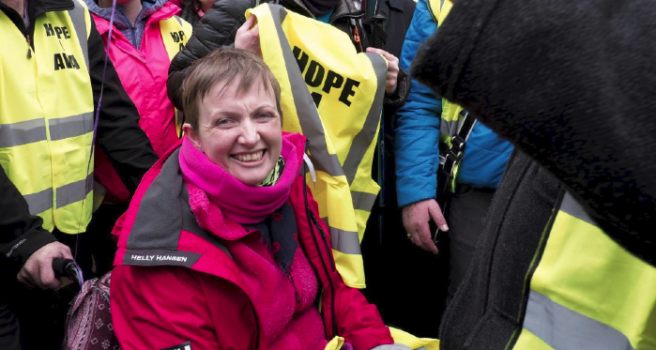 Vera Twomey: Daughter Ava has gained access to medical cannabis
Vera Twomey became well known in Ireland after she walked from Cork to the Dáil in Dublin in order for her daughter to receive medical treatment with medical cannabis in Ireland.
Her daughter, Ava, has a severe epilepsy condition called Dravet Syndrome, and cannabis oil has been proven to ease the harsh symptoms.
However, her calls went unheard in Ireland, and last month the mother revealed she would have to travel in order to get the treatment her daughter needs.
Well, Vera shared a video online last night announcing that her daughter will start her cannabis treatment tomorrow in Holland.
She posted a video to Facebook explaining that Ava will receive her first dose of CBD and THC medication this morning.
Smiling, Vera told her friends and family, "I'm looking forward to getting going with it.
"We'll begin Ava on the combination of CBD and THC. We were given a number of other supplements to help Ava in the long term.
"The most important thing anyway is that Ava has gained access to medical CBD and medical TCH over here in the Netherlands by a doctor."
Vera continued to say that doctors in Holland couldn't believe how she was treated in Ireland.
"I've met a number of doctors, I've met a number of nurses, all of which are confused and appalled at the fact that medical CBD and THC combined are not part of a possible treatment for patients like Ava."
We're delighted Ava is on her way to receiving the treatment she needs.