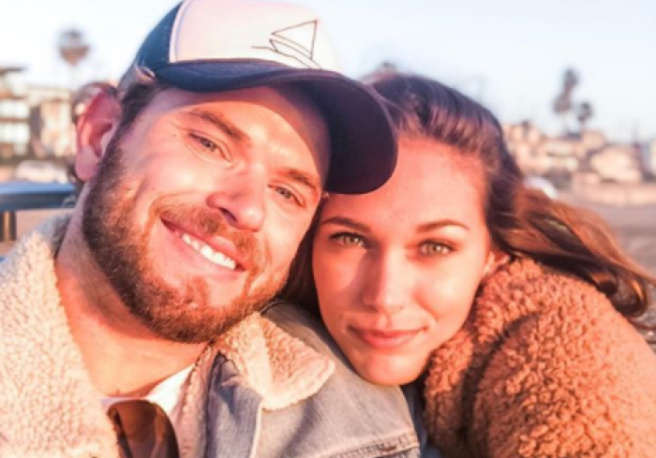 Twilight's Kellan Lutz and his wife are expecting their first child
We can all admit we had a poster of Kellan Lutz in our locker or on our bedroom wall at some stage during the Twilight years.
The actor played Emmett Cullen in the Twilight movies but now he's all grown up.
Kellan is set to become a dad for the first time. He revealed that his wife Brittany is pregnant on Thanksgiving.
He posted the cutest photo to announce the wonderful news. In the snap, Kellan and Brittany are wearing matching denim jackets and they're also holding one up for their little boy or girl.
The tiny denim jacket is just far too adorable!
He captioned the snap, "So much to be grateful for this year… and even more so in 2020! So proud of my wife @brittanylynnlutz and so pumped for our lil family to grow into 3 + Koda. Get here already."
Brittany shared the same snap and gushed about the pending arrival of their first child.
"Can't wait to meet you Little Lutz!" the mum-to-be wrote.
Keelan's co-stars were quick to congratulate him on his huge news.
Jackson Rathbone, who played his on-screen brother Jasper Cullen, wrote, "Congrats on booking the role of a lifetime! Fatherhood looks good on you, brother!"
One fan added, "Congratulations! You're going to be the best dad."
Kellan and Brittney recently celebrated their two year wedding anniversary. The actor praised his wife in a heartfelt tribute on Instagram.
He wrote, "@brittanylynnlutz thank you for making me the happiest man in the world when you said "I do!" With all my heart, body, mind, and soul, I CHOOSE YOU forever and always."
Huge congratulations to Kellan and Brittany!