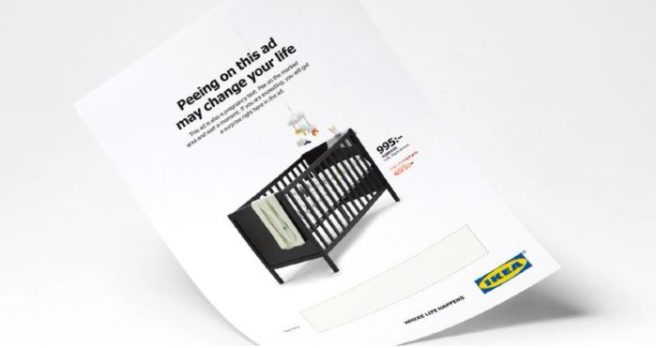 Trying for a baby? This bizarre IKEA ad doubles as a pregnancy test
IKEA's latest advert might just be its most creative, albeit completely bonkers, marketing strategy to date.
In a bizarre yet oddly clever attempt to promote the sale of baby cribs, the Swedish furniture retailer is asking its female customers to pee on its latest print ad.
Sounds pretty disgusting, we know – but hear us out.
Ikea wants you to pee on this ad and if you're pregnant, it'll give you a discount on a crib https://t.co/MjuUiQSkZz pic.twitter.com/wAMXt8IdkJ

— Adweek (@Adweek) January 9, 2018
The flyer, designed by advertising agency Åkestam Holst, actually contains chemicals similar to those found in home pregnancy tests.
The idea is that when a pregnant women urinates on the ad, the positive result will reveal a discount code for the advertised crib.
The unique ad was published in the latest edition of Amelia – one of Sweden's most influential female-focused magazines.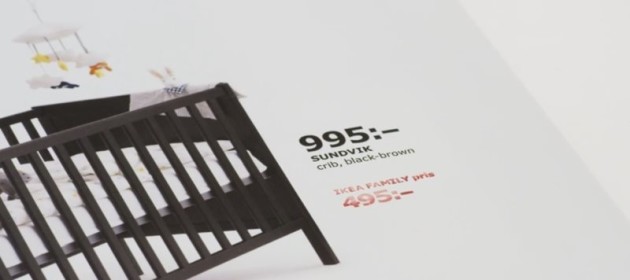 Speaking to AdWeek, the agency behind the campaign said: "In order to make the interactive functions of this ad work in reality, we had to make several technical advancements."
"The pregnancy test strip was used as a starting point… Careful selection of materials, together with a controlled capillary flow have been crucial for the success of this project. Technical advancements made during the work with this campaign have the potential to improve medical diagnostics."
So, what do you reckon? Absolutely gross or utterly genius?