Travis Scott denies cheating on Kylie after a damning pic emerges
Travis Scott has heavily denied the claims that he cheated on his baby momma, Kylie Jenner.
A picture surfaced online of a man that sort of resembles the 26-year-old, getting cosy with an unknown woman on a balcony.
When they claimed the man was Travis – he wasn't having any of it.
He clapped back at the "trolls" saying that he was "sturdy" in his relationship.
Commenting on an Instagram post, he wrote:
"Sh*t cap ass f**kkkk TMZ ain't post this sh*t. Trolls working hard today."
"I don't be on balcony with no thots. That sh*t lame. Try again you trollssss. Me and my wifey sturdy. Back to celebrating!!!"
"Only got love for my wife. No time to be wasting. Think again," he added in a separate comment.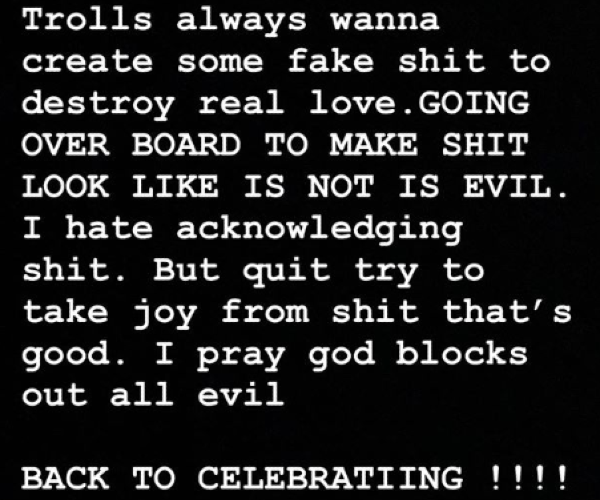 Clearly peeved about the allegations, Travis took to his own Instagram stories to further deny the rumour.
He wrote: "Trolls always wanna create some fake s**t to destroy real love."
"GOING OVER BOARD TO MAKE SH*T LOOK LIKE IS NOT EVIL. I hate acknowledging sh*t. But quit try to take joy from sh*t that's good. I pray god blocks out all evil."
"BACK TO CELEBRATING," he finished.
The current celebrations the rapper is referring to is knocking Ariana Grande's Thank U, Next off the top spot of the Billboard Hot 100, with the song 'Sicko Mode'.
We hope for everyone's sake that the rumours aren't true and in Travis' words, it is the trolls just trollin'.