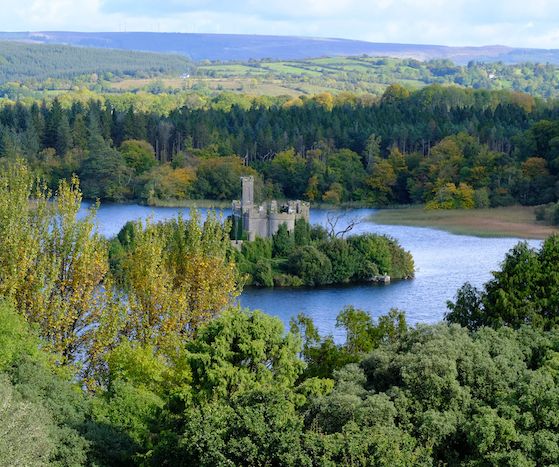 Top five reasons to book a weekend getaway to Roscommon
County Roscommon, nestled in Ireland's Hidden Heartlands, is emerging as the perfect destination for an autumn escape. Given its central location, Roscommon is within easy reach of all major cities and towns and is a haven for those looking to get off the beaten track and immerse themselves in nature and history. With an array of seasonal activities, trails, cycleways and rich history and culture, not to mention great food and warm hospitality, Roscommon is full of intriguing hidden gems – places, people and experiences just waiting to be discovered.
Visit Roscommon, the county's tourism brand, reveals Spooktacular Halloween events and hotel offers. For those looking for a Halloween getaway, discover the Halloween happenings taking place across Roscommon this Autumn to enjoy the festivities.
October 23rd – November 3rd: With the cave of Oweynagat being the home of Halloween, and reputed as Ireland's Gate to Hell, what better way to celebrate Halloween, the ancient festival of Samhain, than by a special guided visit down into the core of the earth. 'Origins of Samhain' is a daily tour to Oweynagat (the Cave of the Cats), the birthplace of Samhain and the home of Halloween.
October 1st: Families, friends, and companions are invited to the Autumn Fete for an afternoon of follies and fun for young and old with a host of engaging, intergenerational, inspiring, and unforgettable activities.
October 28th – November 5th: Join the Samhain Self-Guided Trail, to discover the traditions and customs of Samhain and Halloween. Gather eerie clues along the way to receive a spookalicious treat.
October 28th: Join an immersive and thrilling Murder Mystery Night at the magnificent Strokestown House, proudly hosted by Enchanted Croí Theatre. Step back in time and enter the opulent halls of this grand mansion, where intrigue, suspense, and a dash of historical charm await.
October 29th – 31st: Expect fun and frights in King House, Boyle for The Green Lady's Ghostly Trail presented by Enchanted Croi Theatre. Once the clock strikes 5pm, the lights will go down and those who dare to enter can expect frightening surprises. The booking line opens at 11am October 4th.
Kilronan Castle are offering a variety of packaged Family Halloween breaks and Autumn Gourmet breaks this season. Set in 50-acres of lush green estate, overlooking Lough Meelagh, Kilronan Castle appears mystical and magical. It's the perfect time to book a secluded escape to one of Ireland's most luxurious castle hotels for a short autumn break before winter hibernation sets in.
Lough Key Forest & Activity Park – Lough Spooky Halloween Fest
29th October – 3rd November: Revel in the Lough Spooky atmosphere with outdoor Halloween displays complete with fun Halloween music and songs. Activities will include a Halloween themed trivia trail, balloon modelling & kids games, Halloween movie time and Halloween costume party with Dj and so much more. Further details can be found www.loughkey.ie. Please note booking is essential and can be done by contacting bookings@loughkey.ie
The 4 star Abbey Hotel Roscommon invites guests to embark on an unforgettable Halloween escape with an array of enticing offers. Families can delight in the Halloween Family Escape, featuring a two-night stay for 2 adults and 2 children, starting at just €318. Additionally, the Autumn Afternoon Tea Getaway Special, priced at €380, offers a two-night package complete with dinner and the indulgent Afternoon Tea experience. For those seeking an extended stay, the Three-Night Break presents a tempting option, including daily breakfast and a three-course dinner on two evenings of choice, all available at an attractive rate of €339 for 2 sharing.
TOP 5 THINGS NOT TO MISS IN ROSCOMMON THIS AUTUMN:
Explore miles of Trails and Cycleways
Roscommon is a sanctuary of wildflower meadows, native woodlands, peat bogs, turloughs, rivers and lakes. The county offers unparalleled opportunities to get active off the beaten track and get active in nature, with an extensive network of walking trails and cycleways. Whether you are an avid hiker or a leisure cyclist, experience the joy of the Knockcranny Loop, Cloonlarge Bog Walk and Mote Park as the leaves begin to turn.
Immerse yourself in history at Strokestown Park House and National Famine Museum
Strokestown Park House offers an insight into the lives of those who lived in the stunning Georgian mansion and its fascinating history. In addition to exploring the house, visitors can immerse themselves in the complete story of the Great Irish Famine at the state-of-the-art National Famine Museum. Enjoy six-acre walled gardens and lush mature woodlands with trails to explore, or take a rest stop in the brand-new bright and modern Woodland Café on site.
Enjoy thrilling adventures in Lough Key Forest Park
Lough Key beckons visitors with a wealth of recreational all-weather activities, suitable for all ages. Whether exploring the treetop canopy walk, attempting the unique Swedish Boda Borg puzzle rooms or taking a leisurely stroll through the lakeside woodlands, it is a must-visit destination that promises to leave a lasting impression on all who venture there.
Lough Key is a stone throw away from the culture hub town of Boyle. Hollywood star and proud Rossie, Chris O Dowd, put Boyle on the map with his Sky TV series Moone Boy, and is currently filming another upcoming show for Sky starring Christina Hendricks and Paddy Considine.
Visitors in Boyle are encouraged to stop by King House, a unique restored Georgian mansion which displays important cultural collections and Irish history exhibitions. King House hosts many cultural events throughout the year including the Boyle Arts Festival leading art exhibition, which was officially opened by Brendan Gleeson this summer, who has a special Roscommon affinity.
Travel back in time at Arigna Mining Experience
Situated in the heart of the picturesque Arigna Valley, The Arigna Mining Experience is a unique community inspired initiative which records 400 years of mining history in the area. Ex miners take visitors on a journey through a way of life, which gives an authentic insight into an industry which played a fundamental role in Arigna for generations and is now a tourist attraction of both national and international significance. Arigna has not only created a unique visitor experience but has also ensured the preservation of a crucial part of Irish history for future generations.
Just a ten-minute drive from charming Boyle, visitors will find this family-owned and operated sanctuary which is home to a delightful herd of alpacas. Enjoy a unique opportunity to get up close and personal with the endearing and gentle creatures with farm visits and treks which provide fascinating insights into the alpacas' behaviours and lifestyle.
Co. Roscommon's Tourism Officer, Lisa Joy, warmly invites visitors to consider the county: "Roscommon is the perfect destination for a weekend getaway this autumn. There is so much to offer between our stunning trails and cycleways, artistic culture, and award-winning cuisine and hospitality, which make it an unforgettable destination off the beaten track. Ideal for couples, groups of friends and family's alike, come and discover the jewel in the crown of Ireland's Hidden Heartlands."
Prepare for a weekend of wonder and start planning an autumn getaway now. For more information on accommodation, transport, and travel tips see www.visitroscommon.ie.