This is how long we have to wait for new Avril Lavigne tunes
It's time to welcome back the thick black eyeliner of the 2000s and rock out to Skateboi and Complicated.
Why are we getting you so nostalgic I hear you cry?
Well, Avril Lavigne has just announced the release of a new album and it's given us an excuse to binge on those classic oldies.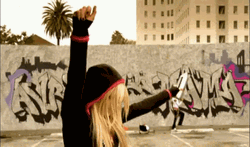 Taking to her website, the queen of punk stated that its a "new era" for her music.
She was pumped to reveal that her first single is called "Head Above Water", and it will be here on September 19. – IT'S SO SOON!
Avril fans have been waiting for five years for new music, as the singer in her statement detailed her battle with Lyme disease.
Our gal has used her struggle with her health to inspire this new music and WE CAN'T WAIT.
"I was able to turn that fight into music I'm really proud of. I wrote songs in my bed and on the couch and recorded there mostly as well. Words and lyrics that were so true to my experience came pouring out of me effortlessly," she wrote.
The 33-year-old went on to thank everyone who has supported her through her illness.
"I am very proud and thankful to everyone who waited so patiently and lovingly with me to support this process for me."
"I now have a very strong, triumphant, powerful and true record to me and my experiences over the last few years," she added.
By the sounds of it, this album will be an absolute banger and we are living for the new single.
In the run up to its release you can guarantee our playlists will be throwbacks to all her classic hits from the naughties.
Now we are off to try and learn how to skateboard – although we don't think we'll be quite as cool as Avril was.