'There is no catfight': Sarah Jessica Parker talks Kim Cattrall and SATC
While Kim Cattrall may have felt she had a 'toxic relationship' with her Sex and the City co-stars, as she previously told Piers Morgan, Sarah Jessica Parker does not feel the same.
'I'd just like to remind everybody that there is no catfight," the actress best known as Carrie Bradshaw told Vulture.
She emphasised the fact that there were four of them, her and Kim as well as Cynthia Nixon (Miranda) and Kristin Davis (Charlotte). This wasn't a case of two divas fighting on set.
"I also want to remind everybody that there were four women on the set and I spent equal time with all of them, so this was not a set with two women who didn't get along.
"I've always held Kim's work in high regard and always appreciative of her contributions."
Later on, she added, "But, no, there is no catfight, there never has been a catfight. I've never fought with someone publicly in my life, nor would I."
The Hocus Pocus actress also touched on Sex and the City 3. Kim had noted before that she felt she had blame unfairly placed on her for the film being cancelled because she chose not to reprise her role as Samantha.
"If she chooses not to do the third movie, there's not a lot I can do to change her mind and we must respect it," Sarah shared, "That's the only thing I've ever said about it, you know?
"The three of us have shared our disappointment that we're not making that movie, not just on our behalf but our crew, but also just the people that have been vocal about wanting to see it."
However, all is not lost! The story of our favourite New Yorkers could return – albeit in a slightly different form.
The 53-year-old said, "So whether we choose to revisit it at another time and reimagine that story — that's something Michael and I just haven't talked about yet, that doesn't mean we won't, but we haven't at this time."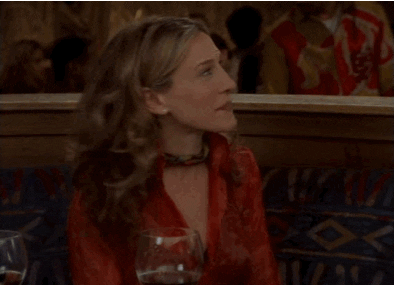 Picture via GIPHY
Fingers crossed we get to see the ladies back together! We will sorely miss Samantha's presence though, and her hilarious stream of innuendos.
Sarah reflected that, despite some of the public controversy between her and Kim in recent months, she will always be proud of the work they did together:
"We are enormously proud of what we got to do and I don't want someone sharing thoughts publicly, which is Kim's right to do and that is what it is, but we spent 10, 12 years of our life doing something that I really loved and I feel privileged to be part of and I don't want this to eclipse it or change its experience for that audience that was so good to us for so long."