The Twilight Saga is now 10 years old and we have MANY questions
The first novel in Stephanie Meyers Twilight Saga is turning 10 years old this year.
If that doesn't make you feel old then we don't really know what will. Although, maybe we should take a leaf out of Bella Swan's book and find ourselves a centuries old boyfriend because that definitely keeps a gal feeling young. Not that it was creepy or anything, not at all.
In honour of the multi-million euro series (and it's cinematic masterpiece counterparts) hitting the big 1-0 we at SHEmazing took a trip down memory lane and realised that despite it being 10 years on, Twilight hasn't answered many questions.
While the novels only expanded in length as the series went on, we realised once the films were released that there were some aspects that nobody was talking about. We want answers!
Why does everyone fancy the Cullens when they are the #1 models of 'Resting Bitch Face'?
How do the entire Cullen family manage to avoid all of those speeding fines? Their driving is ridiculous.
Why does Bella not find it exceedingly creepy that Edward watches her sleep? They weren't even a couple!
Did Jacob never find it annoying that his hair got in the way while he was getting super buff? We find our ponytails annoying at the gym, what gives, Jacob?
When Bella and Jacob went on that terrible 'date', who decided to go and see Love Spelled Backwards is Love?
Remember the werewolf that mauled his girlfriend's face because he "was a little angry"? That was not ok, not even a little bit.
If Bella's dad was a detective, how did the Cullen family and their giant mansion house that appeared in the woods not make him curious?
How did Bella find the motivation to keep going to school and get amazing grades if she knew she was going to become an immortal vampire immediately after she graduated?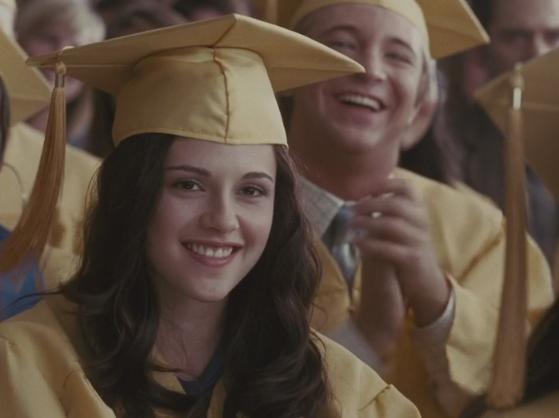 What is the point in Jacob getting dressed at all if he's just going to go running around in the rain and rip his clothes off anyway?
Was Bella not kind of creeped out by the fact that everyone she knew was really interested in her virginity for most of her teenage years?