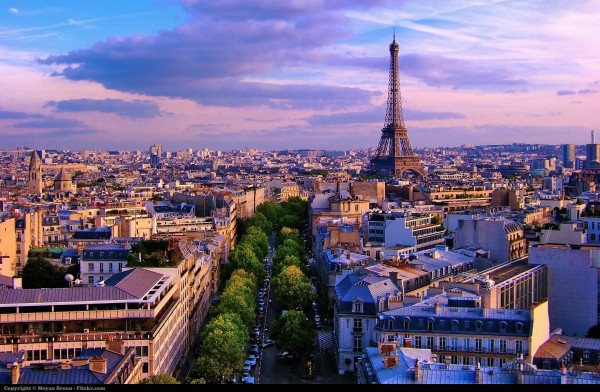 The Paris diaries: The most Insta-worthy spots in the French capital
It's really not hard to find picture-worthy spots in Paris. Any cafe, any bakery, any park will no doubt get you hundreds of likes on the 'gram.
To celebrate Bastille Day, on July 14th, we have gathered some iconic spots that you really don't want to miss during your next trip to the City of Lights.
1. Tour Eiffel
Let's start with the more obvious. If you don't get a picture of the Iron Lady, were you even in Paris?
2. Ladurée
Macarons are one of the most Instagrammable food ever, and when in Paris, a trip to Ladurée feels quite mandatory. We particularly recommend the orange blossom and salted caramel ones!
3. Champs Elysées
The iconic avenue usually hosts more tourists than real Parisians, but you need to see the Arc de Triomphe and appreciate the beauty of the monument.
4. Père Lachaise
A cemetery would not be the first place that comes to mind to take beautiful photos, but Le Père Lachaise is an exception.
This old graveyard has some pretty famous hosts for eternity such as Jim Morrison, Edith Piaf or Oscar Wilde, and the alleys are ideal for a quiet walk in the middle of the hectic city.
5. The river Seine
La Seine is one of the symbols of Paris and taking a "Bateau Mouche" (fly boat) is a must-do activity when in Paris. During the summer, the banks are taken by storm by the Parisians for cool evening picnics.
6. The Canal Saint-Martin
The Canal Saint-Martin is a favourite for Parisians to go for a drink or meet their friends. The hip area also hosts some lovely restaurants, shops and clubs, so you must put in on your Paris bucket list.
7. Montmartre
Montmartre needs no introduction but there is more to it than the Sacré Coeur, its iconic church.
If you walk around this adorable district (outside the famous Place du Tertre), you will feel like you have been transported to a picturesque village, and the view of the capital is priceless.
8. Saint-Germain-des-Prés
The left bank of Paris has a lot to offer and the Saint-Germain-des-Prés area is one of the oldest districts of Paris, boasting adorable cafes and elegant shops.
9. Rue Montorgueil
Ideal for people watching, this pedestrian streets holds amazing bakeries (including Stohrer, the oldest in Paris), fabulous food and wine shops, cool cafes and great restaurants.
Featured image: Instagram @herve_in_paris