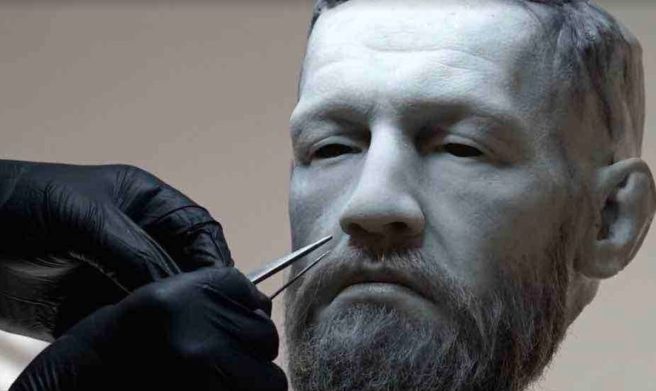 This £50K sculpture of Conor McGregor is incredibly life-like
Conor McGregor is turning 30 soon, and a Lithuanian artist decided that the only way to mark the fighter's milestone birthday was to create a special sculpture.
And by special we mean a handcrafted, hyperrealistic, life-sized sculpture.
Edgar Askelovic, also known as Aspencrow, spent five months meticulously handcrafting the 100kg sculpture from photographs alone, using top quality platinum silicone and marble powder.
The Birmingham-based artist used eerily realistic, UV- resistant Polyurethane Resin to make the eyes and real hair for McGregor's trademark crop cut and beard.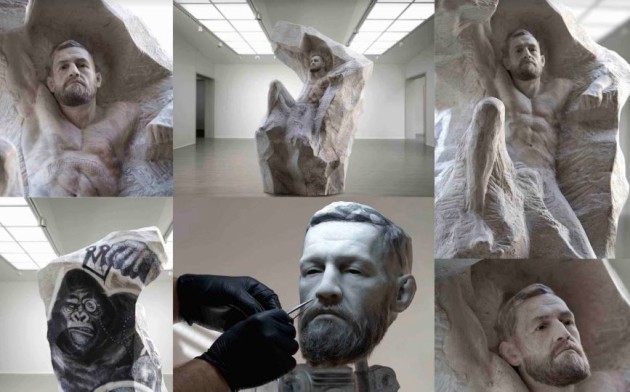 The life-sized piece titled ATLAS is worth £50,000 and shows the UFC fighter bursting out of a block of marble. It will be gifted to the dad-of-one on his birthday and is part of an edition of three unique variations of the piece.
The two other sculptures will be sold by JD Malat Gallery, where it will be on view to the public as part of their summer exhibition from 14 July until 30 September.
"It is an honour that Conor has accepted this as a gift from me. He is a phenomenon of our time – not just a smart athlete, but also a visionary," Aspencrow said.
"To create the piece, I looked back to antiquity, when athletes were immortalised in sculptures as gods. And I combined some details from a Michelangelo statue with modern day graffiti to capture the present day's warrior sensibilities.
"People of our generation grew up on graffiti and hooliganism, so I've displayed part of his tattoos on his back in graffiti.
"I share his belief: 'Talent does not exist. This is hard work and obsession'."
The sculpture will be unveiled at Mayfair's JD Malat Gallery on 14 July – the UFC legend's 30th birthday.
"I am pleased to work with such a talented, young sculptor. He works alone and each new piece is a masterpiece, from the plinth to the hyperrealistic eyes," the gallery's founder, dealer and curator, Jean-David Malat said.
And in fairness, it is pretty incredible!