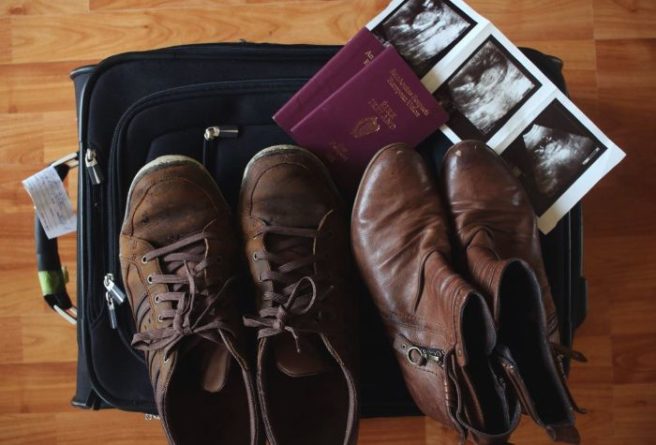 Scrolling through my newsfeed one night, I noticed that one of my friends had liked a new page. The profile picture was a pair of dolly shoes. I never saw it before, but I instantly understood what it was.
I started to cry.
It has been less than five years since my own crisis pregnancy and I still struggle to find the right way to speak about the 8th amendment. It is so difficult to discuss an issue that will shape the lives of Irish women forever. As a mother, I think about my daughter and how it might impact her life. The landscape is divisive and scary. I had no idea what I was looking for when I thought about how to change this rhetoric that currently surrounds the upcoming referendum.
That night, I realised that the In Her Shoes- Women of the Eighth Facebook page is the answer.

The page is a modern archive of raw and honest accounts by women who have experienced the complex effects of the 8th Amendment. It is not a debating ground, as founder Erin explained when I spoke to her, but simply a platform for women to share their realities with anyone who is willing to read. Each account is accompanied by a photo of a pair of shoes, inviting us to step into their reality for a moment.
On the phone, Erin tells me that her youngest baby is sleeping soundly on her shoulder. I instantly identify with her tone. She is a parent who wants a better Ireland for her little ones; she is hopeful and wary of the next few weeks.
Erin tells me that the idea for In Her Shoes came to her while she was working at a Pro-Choice information stall in her small rural Irish town. She engaged in a conversation with some friendly older men who identified as Pro-Life and had some ideas of why a woman might have an abortion. They were open to hearing real-life experiences. Like all who sit down for a respectful conversation around this issue, Erin realised that, in general, Irish people are empathetic and compassionate. They are willing to see another side of the debate – to hear the effects of the 8th Amendment on real lives.
The In Her Shoes Facebook page was set up by Erin back in January 2018. She envisaged a platform for a few women to share their personal experiences, but never expected the incredible responses and reactions the page has evoked. To date, there have been over 170 stories shared and there are many more scheduled to post over the next few weeks. Erin started the page on her own but now has a small team of trusted volunteers who help bring these front-line stories to the public. The page has a following of over 59,500.
These women tell their harrowing and unique tales with bravery. They speak of shattering diagnoses and being forced to travel or to bury their babies across the sea. They recount sexual assaults that resulted in pregnancy and mental torment. They document the reality of being a pregnant child on an island that doesn't seem to care. They are women with disabilities whose pregnancies have put their lives at risk. They are mothers in violent relationships.
They tell sides of the story that most wouldn't even attribute to the 8th, such as the woman who suffered a devastating miscarriage only to be denied aftercare because her scan was unclear; the women with cancer who are denied chemotherapy after becoming pregnant; a woman whose pregnancy would render her blind eventually, but who was denied a treatment because the glare of the 8th amendment terrifies Irish doctors.
The women who contribute come to life on the screen. They are real. They are our mothers and daughters and sisters. They don't appear as countless statistics but as individuals. They travel. They are forced to travel. They choose not to travel. They bleed, they cry and they share.
Many disclose that this is the first time they have told their story. Some of the accounts describe journeys that date back years- years of carrying a devastating secret. Their vulnerability is evident; you can feel the shaking hands and drumming hearts with every word. They confide in Erin and her followers anonymously and ask us to imagine the horror of each situation.
Something that struck me was the recurrent vocabulary in these stories of crisis pregnancies, non-viable pregnancies and miscarriages. Images of crashing worlds and ticking time bombs echo throughout the accounts. However, even with imagery so similar, all of these women recount a loneliness like no other. Isolation is an understatement.
Erin describes the sharing process as healing. These women finally know they are not alone as they share and read the stories of others.
Many say they were Pro-Life before they came face to face with the 8th amendment. The experience of a crisis pregnancy or a non-viable pregnancy is not something that can be imagined. The nuances cannot be simulated, and that's evident from the detail in each story. No pregnancy is the same and all we can do is read, feel and empathise.
Reviews on the page reveal that Erin's initiative is changing the way people will vote. The mother of 3 tells me that she receives humbling messages daily about how her page has changed the minds of Pro-Life family members. It can be particularly difficult to discuss Repeal with loved ones.
Despite giving birth to three Irish children, Eirin is an American immigrant and has no vote for her future or the future of her daughters. In the early days, her goal was to convince one person to vote YES, so that her voice would be heard. She recounts a person reaching out to thank her for helping her Pro-Life Granny see the complexity of the issue and how voting no to Repeal is not the solution for a safer Ireland, even if someone is personally against abortion.
The In Her Shoes- Women of the Eighth page demonstrates a stark reality: Article 40.3.3° of Bunreacht na hEireann– the 8th amendment- does not prevent women from obtaining termination services. This much is clear. It allows for the daily export of Irish women's healthcare and prevents the support that is needed for those with nowhere to turn.
The accounts given are evidence that the 8th amendment impacts every continued pregnancy and childbirth on Irish soil. The article removes the capacity of a person to give consent during pregnancy or even possible pregnancy. This referendum is about so much more than abortion services. It is about safety for all Irish women.
If you or anyone you know is undecided about how to will vote on May 25th, this page is the place to start. If you haven't already done so, click here for In Her Shoes- Women of the Eighth.
Article by Anna Murray.