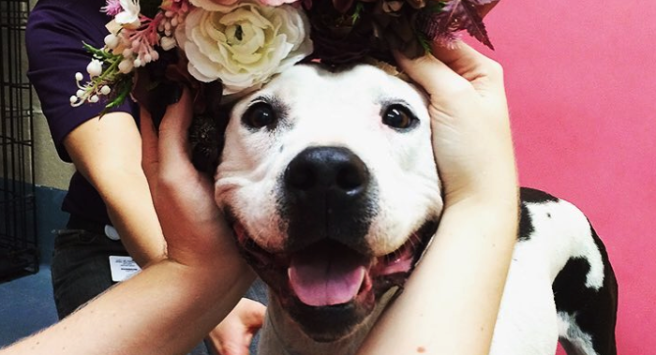 There's nothing better than using your talents to help out a good cause – especially when it comes to dogs.
One woman, named Sophie Gamand, decided to put her photography skills to good use when she saw how many sheltered dogs (mainly Pitt Bulls) were being put down for unnecessary reasons.
By combining her skills with the desire to help out these pups, Sophie started The Flower Power Series: Pitt Bulls of the revolution.
With her efforts, the artist has successfully re-homed many dogs who were destined to be put down, just because of their breed.
Writing on her website, New-York-based Sophie said: "It's a quiet massacre. These dogs make people uncomfortable, which has led the country to be faced with a major Pit Bull crisis.
"Unfortunately, because of their bad image, they have the false reputation of being more dangerous than other dogs, hence attracting irresponsible primary owners who are looking for a 'scary dog', and seek to develop those traits in them.
"Pit Bulls' downfall is to be exactly the way we created them: strong and loyal. With this series, I wonder if art is a tool powerful enough it can change Pit Bulls' fate."
We're seriously impressed by this woman and her artwork. Take a longer look at her Instagram page, there's some seriously pretty pups on there.
Images: sophiegamand Instsgram