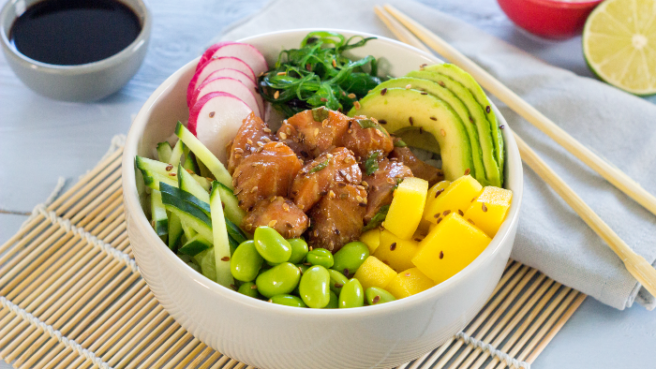 Poke bowls have taken over the Internet, and has proven itself worthy of the title of most fashionable food trend of 2017.
Colourful, healthy and yummy, they tick all the boxes, and many eateries around Dublin now offer their own version of the trendy bowl.
This traditional Hawaiian dish could be basically described as a sushi salad, and just like our beloved sushi rolls, you can make poke bowls with loads of different ingredients.
Rather than splashing the cash on a takeaway poke bowl, you can follow our recipe, which is super easy to make and most importantly, tasty AF.
For 2 servings
Ingredients
200g cooked sushi rice
200g salmon filet, cubed
½ ripe avocado, sliced
¼ cucumber, sliced
¼ fresh mango, cubed
2 tbsp edamame
2 tbsp fresh seaweed
2 radishes, sliced
For the dressing
1 tbsp soy sauce
½ tbsp sesame oil
½ tbsp lime juice
½ tsp fresh ginger, grated
½ tbsp green onion, thinly sliced
Black and white sesame seeds, to taste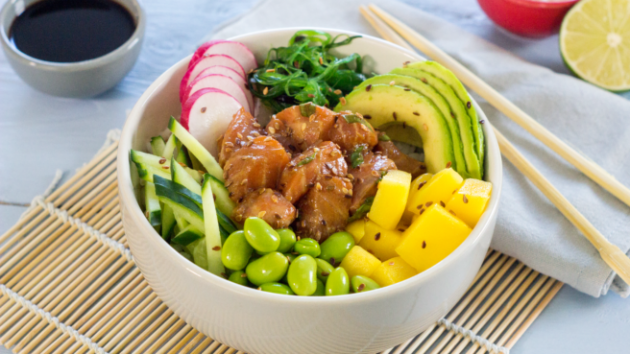 Method
1. In a small mixing bowl, combine soy sauce, ginger, sesame oil, spring onions and lime juice.
2. Toss salmon and marinate for one hour.
3. To assemble, scoop slightly cooled sushi rice into a bowl, top with salmon, avocado, cucumber, edamame, mango, seaweed, radish and sesame seeds.
4. Drizzle with the rest of the marinade, and enjoy!
​