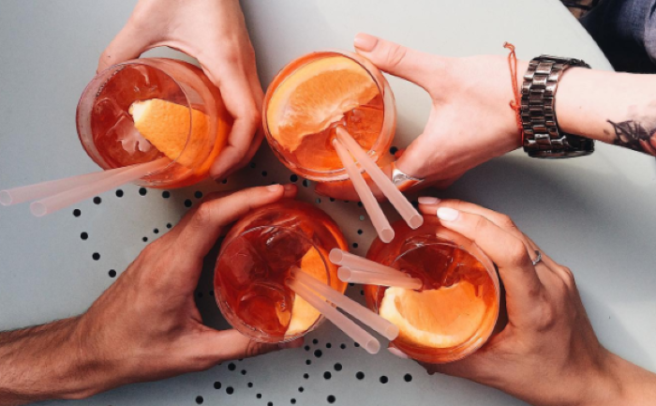 Sauce of the summer: Aperol Spritz is taking over as Ireland's fave drink
Gin and tonic has been having a prolonged moment, but there is another up-and-coming drink angling for the top spot.
The Aperol Spritz is here to conquer summer, with everyone from Ireland's foodie influencers to the ladies who brunch enjoying a sip of the stuff.
The drink has been around for years, but summer 2017 is set to be the season of the spritz, and we're ready for a change.
According to new Google Trend data, the Aperol Spritz is currently leading the way in the trendiness charts for Irish summer drinkers.
The drink is at peak popularity, just ahead of gin, and has seen a meteoric rise to fame, as did it's juniper-blended nemesis.
The distinctive orange drink first became popular back in the 1950s after the aperitif was imported from Italy.
Vogue has dubbed the drink as the one to watch this summer, but what is in the beverage exactly?
Well, the distinctive drink is made up of three parts Prosecco, two parts Aperol and one part sparkling water.
The advised garnishings include orange wedges and green olives.
The beverage has been enjoyed on the continent for years, with 200,000 gallons of the orange aperitif being consumed in France in 2015, according to World Crunch, so Ireland is slightly behind the times when it comes to the latest Aperol popularity surge, but hey, we've got all summer to catch up.
Irish style influencer and Head of Digital, Global Retail at Dior, trend expert Ashley McDonnell is based in Paris, and knows exactly why the drink is so popular across the channel.
'Everyone knows we love wine in France. In the winter it's hearty reds, in spring a chilled white, and summer is all about a glass of rosé by the Seine,' she explained to SHEmazing.
'However, over the last few years our Italian neighbours have been providing us with their own take on a cocktail that involves a good grape but in the form of the unmistakable orange cocktail: Aperol Spritz.'
'The perfect marriage of Prosecco, soda, a slice of orange and Aperol to top it all off is taking over in Paris.'
'It's quickly becoming the beverage of choice especially as the city heats up again, bringing some of the Italian Dolce Vita to the City of Lights, a much welcomed freshness to the long hot summer ahead,' she finished.
Aperol Spritz at the So Prosecco pop-up at Taste of Dublin
The drink even made an appearance at So Prosecco at Taste of Dublin, where the city's finest eateries congregated to showcase their trendiest and tastiest wares last weekend.
As Well + Good put it, it's about the 'desire to get buzzed—not blitzed,' and with a summer of outdoor brunching and beer garden get-togethers ahead, we couldn't be more ready for the season of spritz.
Drinks anyone?
Feature image: Instagram / solomia.mika