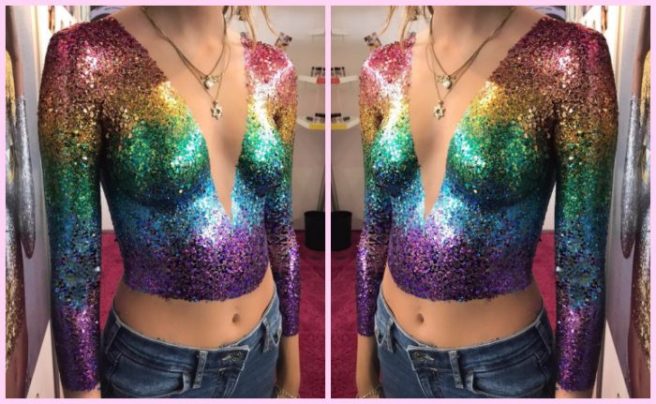 We know that festival season is an excuse to throw glitter all over everything, but this latest festival fashion innovation is taking the trend to new heights.
We've all had more than a few encounters with roll on body glitter, but the creatives at Go Get Glitter clearly have a talent for working with the sparkly substance.
The glitter cosmetics brand are pushing the boundaries and introducing innovative ways to wear glitter that we never thought possible.
Introducing, the full on glitter top, which literally looks like the stuff of glitter-lover's dreams.
The specialist body art gurus are painting the torsos of festival goers this season with lashings of the sparkly stuff to create wearable clothing purely out of glitter.
The tops are our new obsession, with the brand using intricate and amazing nipple covers to maintain the model's modesty if they're not feeling like freeing the nipple.
We're itching to try this look out for real, with the high-impact creation turning heads wherever they go, which is clear by their amazing Instagram videos of festival attendees wearing the look out and about.
It may not be a goer for a DIY job, but we'd love to give it a try.
Pass the bucket of glitter, please and thanks.