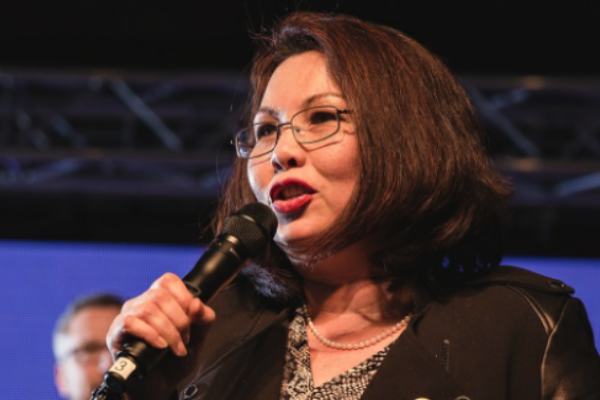 Tammy Duckworth just made history, announcing yesterday that she welcomed a baby girl and simultaneously becoming the first US senator to give birth while still in office.
The Democrat named her second daughter Maile Pearl Bowlsbey, with her middle name being a tribute to her husband Bryan Bowlsbey's great aunt Pearl.
"Pearl Bowlsbey Johnson was Bryan's great Aunt, an Army Officer and a nurse who served during the Second World War," the mum-of-two shared on Facebook.
"He spent many summer months with her while growing up, we feel her presence still and are grateful for her service to our nation during the most challenging of times."
Working moms get the job done https://t.co/Q7FslpW7f8

— Tammy Duckworth (@SenDuckworth) April 9, 2018
Tammy herself is an Iraq War veteran. As well, the 50-year-old is the first disabled woman elected to Congress, as she lost both of her legs while serving as a US Army helicopter pilot.
Not only that, but the politician is also the first member of Congress born in Thailand, with her father being a US war veteran and her mother being of Chinese descent.
Regarding the newest addition to her family, Tammy said that she, Bryan, and their eldest daughter Abigal 'couldn't be happier' to welcome little Maile.
The mum also noted that 'we're deeply honoured that our good friend Senator Akaka was able to bless her name for us—his help in naming both of our daughters means he will always be with us'.
Senator Daniel Akaka, the first native Hawaiian to represent his state in the Senate, sadly died on Friday, April 6.
Tammy shared more gracious words on Facebook, writing: "We're also so grateful for the love and support of our friends and family, as well as our wonderful medical teams for everything they've done to help us in our decades-long journey to complete our family."
Congratulations to Tammy and Bryan on their growing family! What a wonderful way to make history.