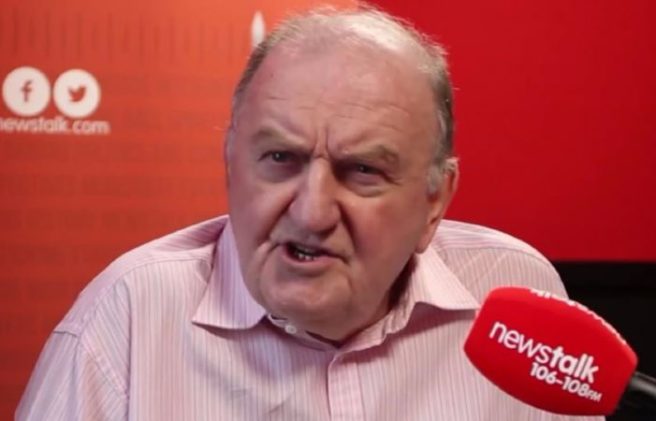 Following George Hook's controversial comments regarding the culpability of rape survivors last week, the company that owns Clayton Hotel has announced it will be terminating its commercial relationship with the broadcaster.
The Newstalk presenter stunned listeners of his High Noon programme when he discussed a rape case involving a 19-year-old woman in the UK.
Outlining the case for listeners, he suggested that women who drink to excess leave themselves vulnerable to sexual assault, and should ultimately shoulder some responsibility if they come to harm.
"But when you then look deeper into the story you have to ask certain questions," he said at the time. "Why does a girl who just meets a fella in a bar go back to a hotel room? She's only just barely met him."
"She has no idea of his health conditions, she has no idea who he is, she has no idea of what dangers he might pose. But is there no blame now to the person who puts themselves in danger."
Getting drunk doesn't automatically lead 2 rape. Getting raped doesn't necessarily mean victim drunk. Someone DECIDES to commit rape

— Ingrid Miley (@ingridmileyRTE) September 9, 2017
I'd caution people against trusting any man who devotes an inordinate amount of effort to abdicating rapists of responsibility #GeorgeHook

— Rob O' Sullivan (@Rob0Sullivan) September 8, 2017
It doesn't matter if a woman shows up naked and drunk at a man's house. If he rapes her it is ONLY his fault. #GeorgeHook

— Taryn De Vere (@TarynDeVere) September 8, 2017
Following the backlash, the veteran broadcaster issued an apology, saying: "It was unacceptable to suggest in any way that blame could be attributed to victims of rape. I apologise for the comments which caused hurt and offence, and for this I am truly sorry."
Despite his contrition, Hook failed to save his commercial relationship with Dalata, who own the Clayton Hotel, with Chief Executive Pat McCann saying: "George Hook is fundamentally out of touch with reality. I am the father of two daughters and I find those types of comments totally unacceptable."
"This contract is up for renewal in October and this will bring into focus whether we will continue to sponsor the programme."
On Twitter, the hotel group confirmed the same, tweeting: "Dalatahotels cannot support any radio station that allows inappropriate & hurtful comments to be made."
"We will be engaging with Newstalk as soon as possible to terminate our commercial relationship."