As many brides-to-be will know, planning a wedding takes a lot of work.
There's the dress, the rings, the venue, the invitations, the guest list… and of course, the wedding hashtag.
A wedding hashtag has only become popular in the past few years, and while some brides want to steer clear of social media on their big day, others opt to have a hashtag for the memories and the LOLs.
And many guests admit that it's much easier to find wedding photos on social media under a hashtag than trying to look up individual guests accounts'.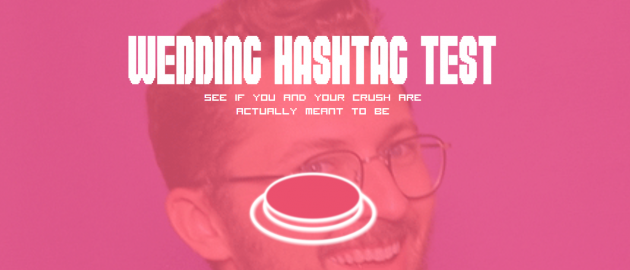 So, say hello to the Wedding Hashtag Test.
This new website is basically a time machine to the 90s, as it not only generates a hashtag, but it also calculates you and your significant other's compatibility.
You'll feel like you're doing a ~*groovy*~ test from a teen magazine.
But, it's really fun and you'll no doubt have a laugh with your partner when you only score a compatibility rate of 21 per cent.
Give it a go and let us know the gas hashtags it creates in the comments below.